Masquerade 2: Being People
Artwork details: coloured and graphite pencil, 21.5 x 11.5 inches (55 x 29 cm), 2007.
'Masquerade 2: being people' - drawing by Nancy Farmer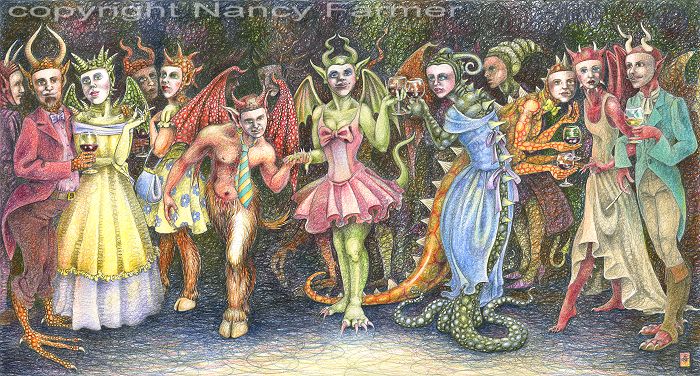 Demons, you see, are just like people really (though a little more old-fashioned in their thinking). They just love to get invited to the right sort of parties, where they get to be terribly, terribly daring and dress up as people. This is a style which, clearly, suits some of them rather worse than others - they have the unfortunate notion that pink chiffon is still an acceptable material to wear, even if one has green knobbly skin, not to mention the problems that spikes and horns can cause for fitted garments and delicate dress netting. Fortunately (Hell being that old-fashioned sort of place), they have quite good seamstresses there who are prepared to spend dedicated hours painstakingly fitting the most elaborate ballgowns to inappropriate physiques, in return for, say, not being eaten or boiled alive...

Masquerade 1: being monsters
This was the natural follow-up to Masquerade 1. In the first picture I did I had (rather more conventionally) all the people dressed up in demonic masks. However, demons like a piss-up just like anyone else and I'm confident that they would find this sort of bash exciting and novel, and probably quite posh, too. To be honest, I suspect Hell has a rather rigid aristocracy and only the well-connected demons at the top of the heap would really get invited as guests... some of the 'lower orders' might possibly be invited as the main course.
'Masquerade 2: being people' - close-up of image.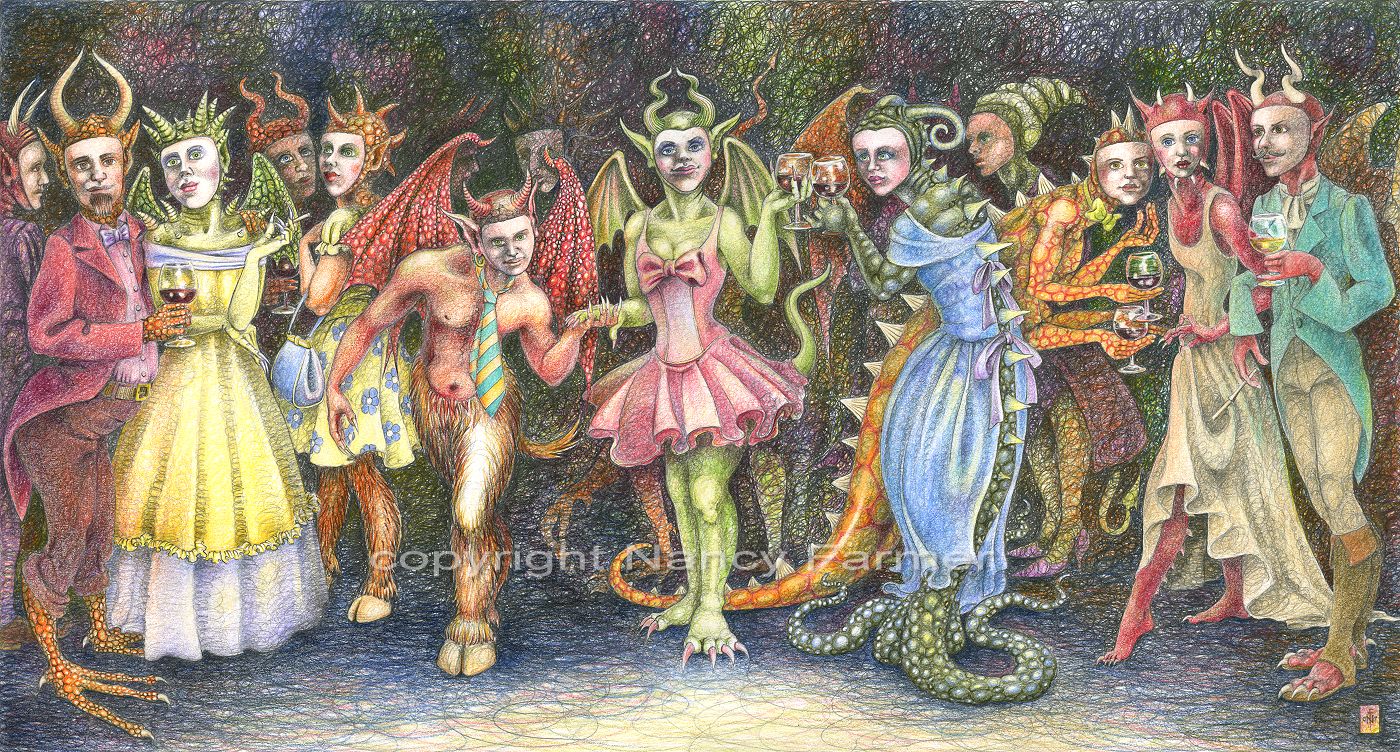 All images and prints are © Nancy Farmer. Please email me if you wish to reproduce any of these images, or see my permissions page in the 'info' section.
Prints & Original Artwork
You can now buy prints of my work (and a few originals) in my Etsy Shop. If you would prefer to buy direct from me, or you cannot find what you are looking for in the shop, feel free to email me instead: mail@nancyfarmer.net. If you are interested in original artwork, I do intend to post a list of currently available artworks in due course, but I'm in the process of moving and re-building a main website, so for the meantime please also email me for more information on originals, and also commissions.