Hatchlings
Artwork details: gouache, 15.8 x 22.7 inches (40 x 58 cm), 2001.
'Hatchlings' - newly-hatched fairies - painting by Nancy Farmer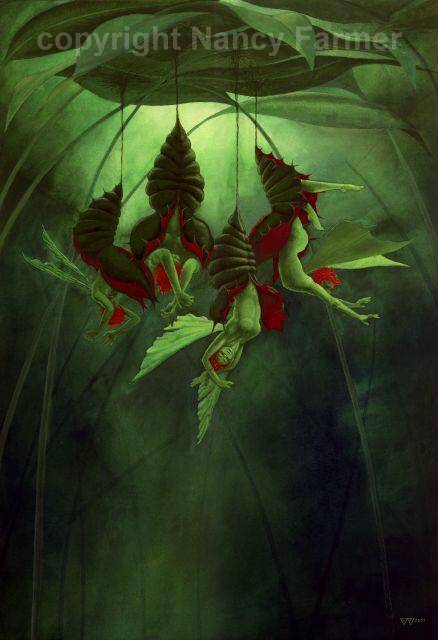 I spent too long looking at butterflies... Actually I really did, as there was a butterfly house in Syon Park, just down the road from where I used to live. You could go in there and these huge tropical things just flapped lazily about... and landed on my brightly coloured hair quite often, walked about a bit on my head, discovered to their disappointment that I was not a tropical flower, and took off again. They were heavy, for butterflies... And they seemed to prefer it when my hair was pink, to when it was blue.
I completely failed to draw them, even though I used to take a sketchbook and they sat quite still a lot, but what I thought were most fascinating were the chrysalises - there was always a box of them hatching. So this picture came as no surprise. Fairies, clearly, hatch from fairy chrysalises. Of course this throws open the possibility of whether there is perhaps a larval stage - fairy caterpillars... and then one is into the even more bizarre territory of fairy egg-laying, and whether the caterpillars might need to be breast-fed. It has been suggested that I think too much about these things, but I did sketch an idea for a fairy queen who was a big fat thing like a queen bee, that needed to be constantly fed by a team of worker-fairies. It hasn't come to anything yet, but there is still time...

'Egshells'
The counter-point to 'Hatchlings' was 'Eggshells' - which was a picture of hatching angels, coming out of eggs, like birds. This ended up as a rather dark disturbing piece, though, rather unlike Hatchlings. Click the thumbnail to see it.
All images and prints are © Nancy Farmer. Please email me if you wish to reproduce any of these images, or see my permissions page in the 'info' section.
Prints & Original Artwork
You can now buy prints of my work (and a few originals) in my Etsy Shop. If you would prefer to buy direct from me, or you cannot find what you are looking for in the shop, feel free to email me instead: mail@nancyfarmer.net. If you are interested in original artwork, I do intend to post a list of currently available artworks in due course, but I'm in the process of moving and re-building a main website, so for the meantime please also email me for more information on originals, and also commissions.