Coffee Break
Artwork details: gouache, some coloured pencil, 15.5 x 22 inches (39 x 56 cm), 2004.
I'd like to think one could get a decent cup of coffee in Hell. Though I fear only black coffee would be available! Below is a close-up of the Devils, scroll down to see the whole painting.
close-up of the She-devils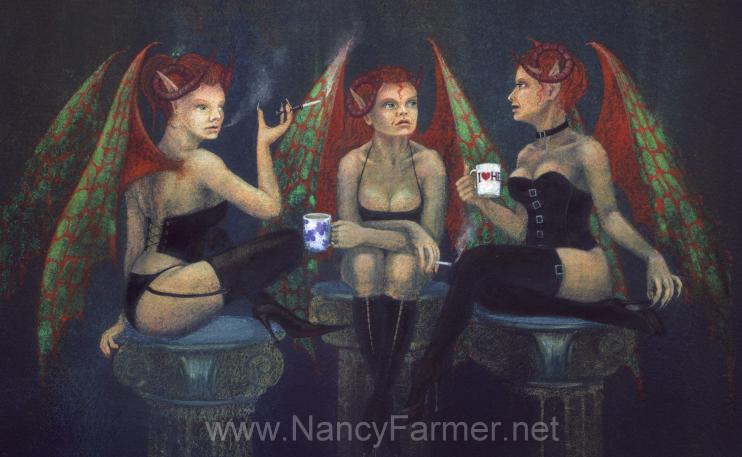 This painting was the start of a demonic little series, based on the principle that if you have to have Hell, then Hell must be staffed with workers - your average devil - and workers have to have coffee breaks, etc...
For the full story (and to avoid repeating myself here) have a look at 'Devils' Tea Party, and then at 'Bathtime', where the dammned have become just the furniture - usefull objects for the slightly-better-off class of devil - sortof demonic middle management. I'm not finished with this subject yet...
'Coffee Break' - devil painting by Nancy Farmer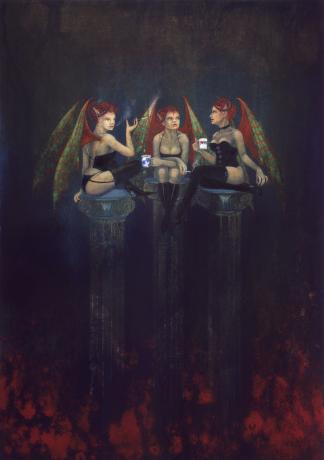 All images and prints are © Nancy Farmer. Please email me if you wish to reproduce any of these images, or see my permissions page in the 'info' section.
Prints & Original Artwork
You can now buy prints of my work (and a few originals) in my Etsy Shop. If you would prefer to buy direct from me, or you cannot find what you are looking for in the shop, feel free to email me instead: mail@nancyfarmer.net. If you are interested in original artwork, I do intend to post a list of currently available artworks in due course, but I'm in the process of moving and re-building a main website, so for the meantime please also email me for more information on originals, and also commissions.