Bathtime
Artwork details: gouache, 10 x 8 inches (25 x 20 cm), 2004.
These Devil paintings have become something of a theme, and a little background explanation may be due those who haven't seen the development of the story from the start:
She-devil taking a bath - painting in gouache.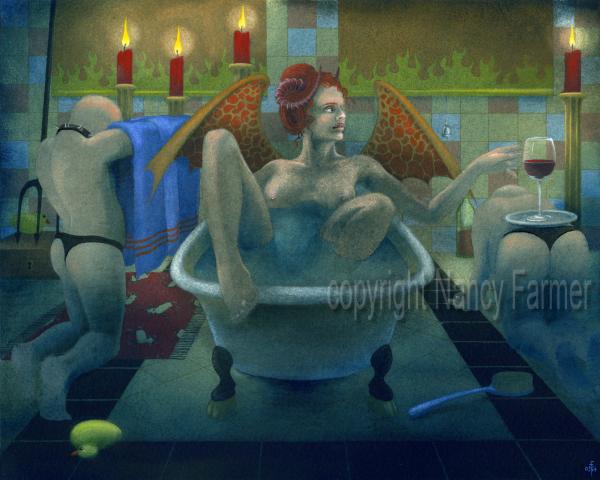 The first of the recent devil pictures was Coffee Break, where the She-devils are ordinary working girls enjoying a well-earned break after a long morning's persecuting the damned (well, it must be hard work!). Then there was Devil's Tea Party where the damned make an appearance as (in a cross between Hieronymus Bosch and Fetish art) the tables and chairs that the She-devils eat off and sit upon. You see, the devils do not even recognize them as people, they are merely part of the surrounding 'furniture' - part of the dull monotony of their daily job.
Now, here's a little domestic scene - rather more fetish this time, but that's the background to this picture's development - it was a stage-by stage thing, and I doubt that I would have arrived simply at this point without going through the in-between stages. People often ask me how I think up my ideas - well if you can follow this line of reasoning you can understand the way my brain works.
Goat motif on a devil's bathmat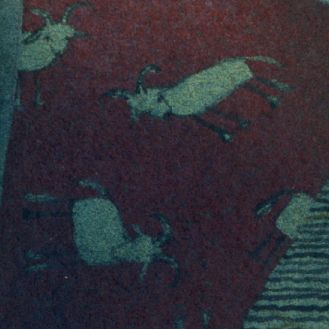 On a stylistic note, if you look at the highly magnified close-up above, you can just make out the goat-motif on the bathmat - Devils are highly predictable in their tastes in soft-furnishings.
All images and prints are © Nancy Farmer. Please email me if you wish to reproduce any of these images, or see my permissions page in the 'info' section.
Prints & Original Artwork
You can now buy prints of my work (and a few originals) in my Etsy Shop. If you would prefer to buy direct from me, or you cannot find what you are looking for in the shop, feel free to email me instead: mail@nancyfarmer.net. If you are interested in original artwork, I do intend to post a list of currently available artworks in due course, but I'm in the process of moving and re-building a main website, so for the meantime please also email me for more information on originals, and also commissions.