Devils' Tea Party
Artwork details: gouache, 17 x 12 inches (43 x 30 cm), 2004.
Scroll down to see some details.
'Devil's Tea Party' - whole picture.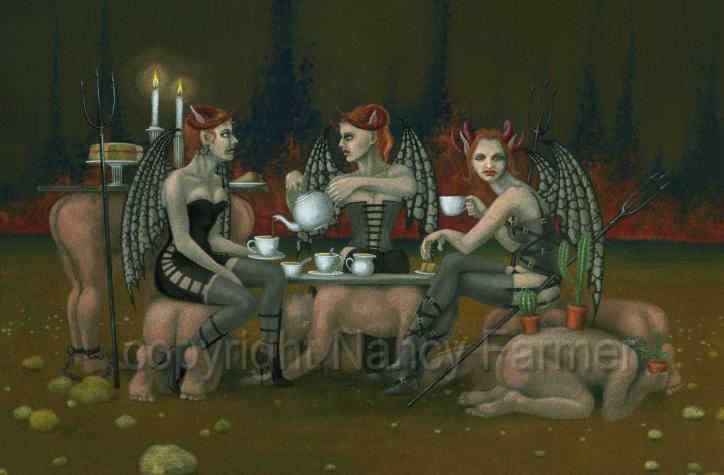 Devils' Tea Party:
complete painting
This painting came about because I had first painted the 'Coffee Break' picture. You see, the logic goes something along these lines: with a monotheistic religion you have to have a Devil, because otherwise how are you going to explain why all the bad stuff happens (of course it's easier to explain if you have a whole bunch of gods - just look at the trouble you could get into in Ancient Greece if you upset one of them). And then you have to have Hell to send people to as well - otherwise what is the point of behaving and not having any fun if the outcome is going to be all the same.
Ah, but now the devil is there because he has a purpose it becomes just a job, and of course he can't manage all on his own down there since it's going to get quite full. There have to be lesser devils - well we know this from all the medieval paintings anyway - but they're only doing their job as well. So Hell has workers. Workers have rights, and most importantly workers have coffee breaks, where they can sit around and bitch about the management...

'Coffee Break'
That's where I'd got to with the Coffee Break painting - this is merely the next stop for the train of thought. You see, the devils don't really have any strong feelings about the dammed - they're just there, all over the place - they're just part of the furniture. Ok, yes they have to do a bit of persecuting now and then, but they've got eternity for that, and a hard-working she-devil has to stop for cake now and then. This lot are probably middle management, and take liberties all the time
And here is a detail of a Devil's face, bored as Hell with the tedious daily grind of persecuting the damned all day long - you see I feel that, no matter how much enthusiasm one had at the start, sooner or later spending all day sticking your pitchforks into people's backsides is going to become a little tedious...
close-up of a bored She-Devil - painting by Nancy Farmer.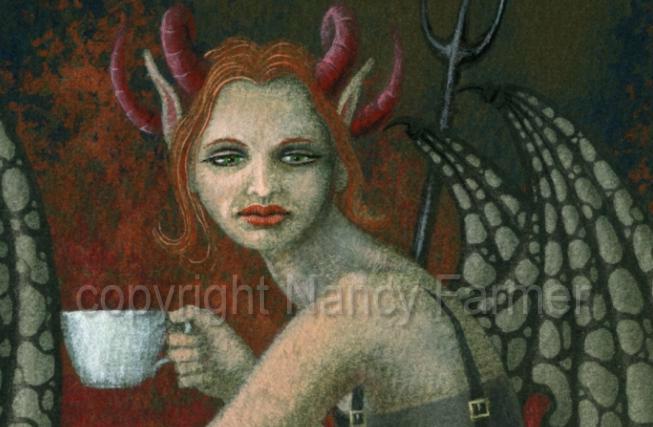 'Occasional Table' - from the Fetishdollies photos.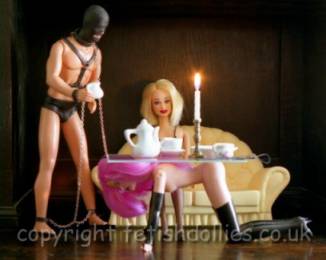 On a different note, this painting has a rather curious twin (above) amongst the Fetishdollies photographs - see my other website at www.fetishdollies.co.uk. In fact it's the only time I can recall thinking up an idea that simultaneously seemed to fit my paintings and my dolls photos - somehow it's that edge of fetish to it that makes it so adaptable...
All images and prints are © Nancy Farmer. Please email me if you wish to reproduce any of these images, or see my permissions page in the 'info' section.
Prints & Original Artwork
You can now buy prints of my work (and a few originals) in my Etsy Shop. If you would prefer to buy direct from me, or you cannot find what you are looking for in the shop, feel free to email me instead: mail@nancyfarmer.net. If you are interested in original artwork, I do intend to post a list of currently available artworks in due course, but I'm in the process of moving and re-building a main website, so for the meantime please also email me for more information on originals, and also commissions.