The Adventurous Outing
Artwork details: gouache, 19 x 13 inches (48 x 33 cm), 2006.
This is really a re-visitation of the original Strip Joint picture, which was a smallish thing in pencil over red paper, that I did once for a Christmas card design. It has been well-loved, and a version of the original I have even painted on the back of my partner's leather jacket, at his request...
Stripper Devils: 'The Adventurous Outing' (scroll down to see the close-up)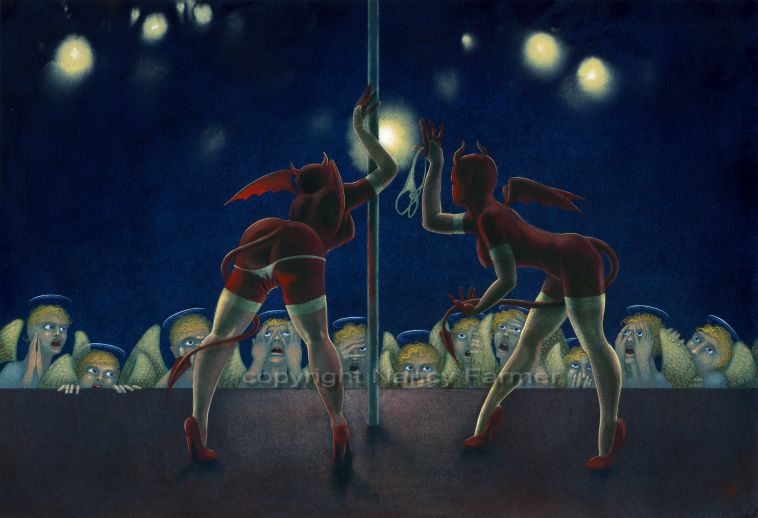 so I thought a larger version was in order. Actually halfway through it I didn't think this painting was going to work at all, but when I finally had it finished I was (unusually) quite pleased with it - which demonstrates yet again that 1) The pictures that are the hardest work are often the most satisfying when they are finished, and 2) that I cannot be trusted when it comes to judging my own work...
'The Adventurous Outing' - art by Nancy Farmer

All images and prints are © Nancy Farmer. Please email me if you wish to reproduce any of these images, or see my permissions page in the 'info' section.
Prints & Original Artwork
You can now buy prints of my work (and a few originals) in my Etsy Shop. If you would prefer to buy direct from me, or you cannot find what you are looking for in the shop, feel free to email me instead: mail@nancyfarmer.net. If you are interested in original artwork, I do intend to post a list of currently available artworks in due course, but I'm in the process of moving and re-building a main website, so for the meantime please also email me for more information on originals, and also commissions.