Christmas 2003: Strip Joint
Artwork details: pencil and pastel on red paper, 5.8 x 8 inches (15 x 20 cm), 2003.
Srtipping Devil - Art by Nancy Farmer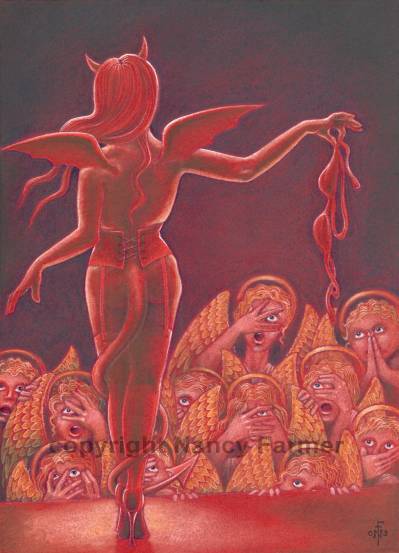 Here the innocent little angels have wandered into a Strip Joint, apparently unaware of what they are letting themselves in for. The poor dears are so shocked they are rooted to the spot - or so it would seem - since not one of them has actually left the seedy establishment...

'The Adventurous Outing'
Several years later I expanded the theme of this picture into a larger painting, called 'The Adventurous Outing' - with two stripper-devils this time, but the reaction of the angels remains the same. Click the thumbnail to the left to see it...
All images and prints are © Nancy Farmer. Please email me if you wish to reproduce any of these images, or see my permissions page in the 'info' section.
Prints & Original Artwork
You can now buy prints of my work (and a few originals) in my Etsy Shop. If you would prefer to buy direct from me, or you cannot find what you are looking for in the shop, feel free to email me instead: mail@nancyfarmer.net. If you are interested in original artwork, I do intend to post a list of currently available artworks in due course, but I'm in the process of moving and re-building a main website, so for the meantime please also email me for more information on originals, and also commissions.