Pretty Pretty Light
Artwork details: gouache, 17.4 x 24.3 inches (44 x 62 cm), 2003.
Fairies round a lightbulb - painting by Nancy Farmer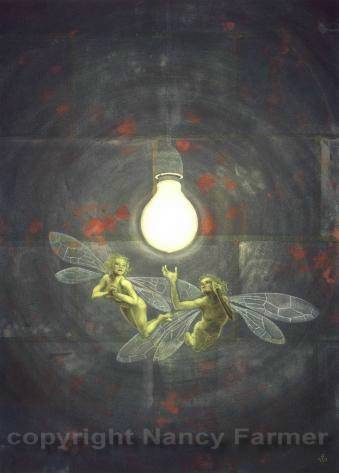 In as much as there is any setting here, I've used a 'modern' setting - bare brick wall and an electric lightbulb which attracts the fairies - rather than a nice old-fashioned candle flame - a sort of fairytale meets the real world setting.

'Hatchlings'
Fairies fluttering helplessly around a lightbulb... Of course this idea is part of an on-going thing I have about equating fairies with butterflies. One of the first of such paintings was 'Hatchlings' - see thumbnail to the left - which has fairies hatching, like butterflies, out of chrisalises. But 'Pretty, Pretty Light' is a nice metaphor, too, for those things we're attracted to that we shouldn't be. We all have those... And then again what the fairies ate attracted to is, as we know, not really all that special or beautiful at all - we probably all have those kind of attractions, too!
Fairies round a lightbulb - painting by Nancy Farmer - close-up detail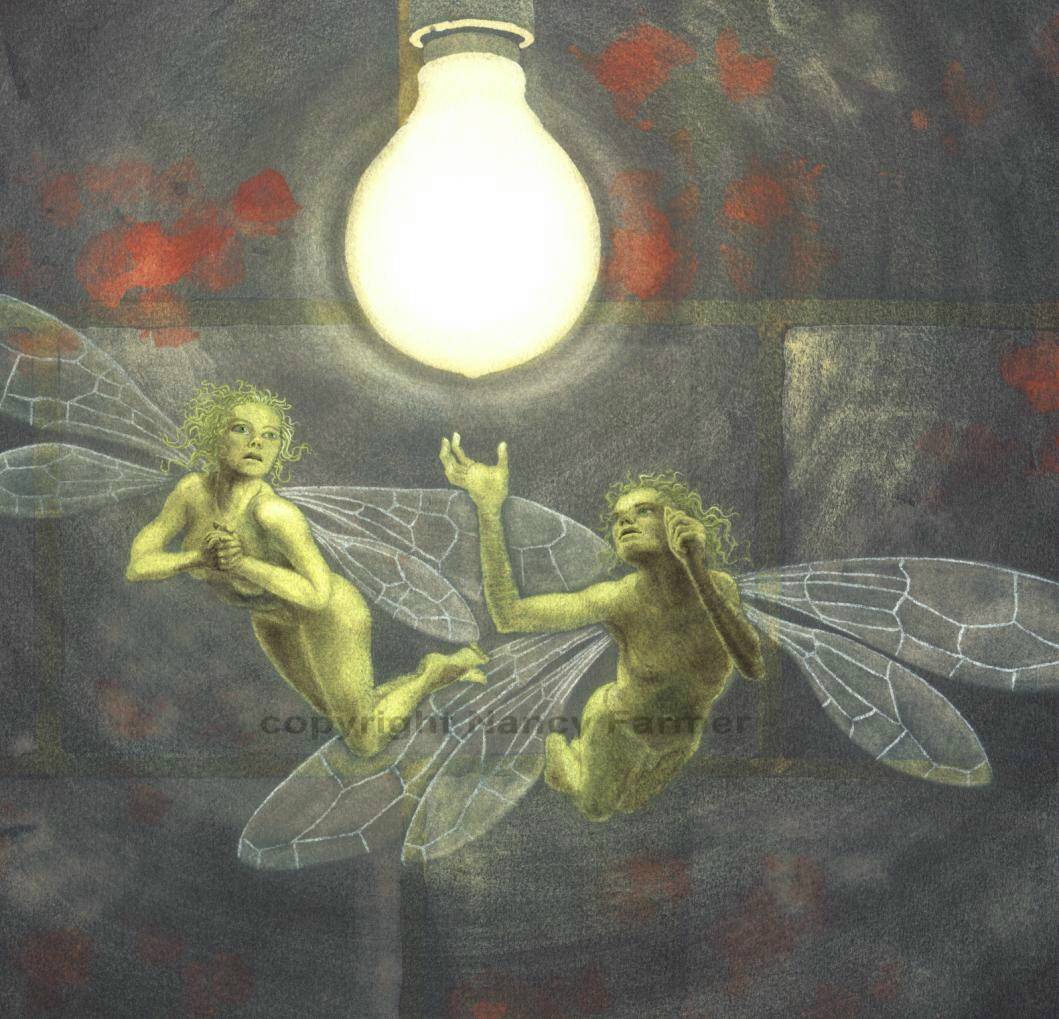 All images and prints are © Nancy Farmer. Please email me if you wish to reproduce any of these images, or see my permissions page in the 'info' section.
Prints & Original Artwork
You can now buy prints of my work (and a few originals) in my Etsy Shop. If you would prefer to buy direct from me, or you cannot find what you are looking for in the shop, feel free to email me instead: mail@nancyfarmer.net. If you are interested in original artwork, I do intend to post a list of currently available artworks in due course, but I'm in the process of moving and re-building a main website, so for the meantime please also email me for more information on originals, and also commissions.