Mrs Minotaur II
Artwork details: gouache, 14 x 11.2 inches (36 x 28 cm), 2007.
The Minotaur prowled the King Minos' labyrinth in Crete in the times of Ancient Greece, a terrible monster part bull, part man, or so the story goes...
Mrs Minotaur
II

- picture by Nancy Farmer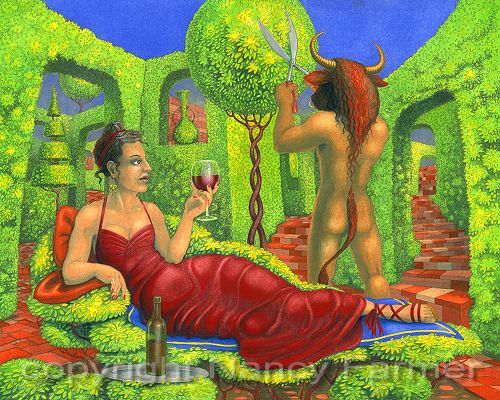 Now, although the abode of the Minotaur is always described as a labyrinth, it is in fact a Maze. Unlike a labyrinth, a maze is designed for getting lost in, which was rather the point of the original story. From there it is just a short hop of the imagination to swap it for a rather neat box-hedge maze of the Tudor variety, and it follows that the Minotaur must be something of an expert in the art of Topiary.
Of course there was a Mrs Minotaur - she got him in the end - he just couldn't resist the slinky red dress, and then the Maze became a far more civilized place, where one could feel quite at home, and probably even invite the neighbours round for a little drinkie.
Mrs Minotaur
II

- detail of painting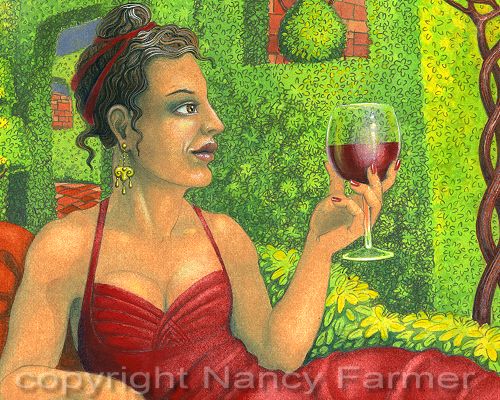 The idea of the Minotaur creating topiary is a picture I had in my head for years, without it ever quite making in into a picture... but he was always on his own, then, and somewhat guiltily clipping the hedges, not wanting to be seen at it. It was not until I started thinking about getting this down on paper - and along came Mrs Minotaur in her red dress - that I realized why the Minotaur was keeping the Labyrinth so neat.
Step-by-step photos of Mrs Minotaur
II




I took a sequence of photos of this painting. To see them you can go directly to the Mrs Minotaur step-by-step photos, and this page is also to be found by going to info, and then painting materials. There are also two more sequences of photos to be found on that page too - The Tattooed Fairy, and Dinner for Two.
All images and prints are © Nancy Farmer. Please email me if you wish to reproduce any of these images, or see my permissions page in the 'info' section.
Prints & Original Artwork
You can now buy prints of my work (and a few originals) in my Etsy Shop. If you would prefer to buy direct from me, or you cannot find what you are looking for in the shop, feel free to email me instead: mail@nancyfarmer.net. If you are interested in original artwork, I do intend to post a list of currently available artworks in due course, but I'm in the process of moving and re-building a main website, so for the meantime please also email me for more information on originals, and also commissions.