Fishwife
Artwork details: gouache, 12 x 12 inches (30 x 30 cm), 2005.
The Mermaid here has grown tired of mooning around shipwrecked sailors - who usually turn up dead anyway, and even if they don't they can never enjoy her watery lair. Nope - she's a very sensible mermaid and has fallen in love with a fish instead... I'm not entirely sure what the fish's views are on this - I suspect a bit of a one-sided relationship, but I hope he will be happy with his slippery bride.
This is a circular painting - scroll down to see the whole picture.
'Fishwife' - mermaid and fish - detail of painting.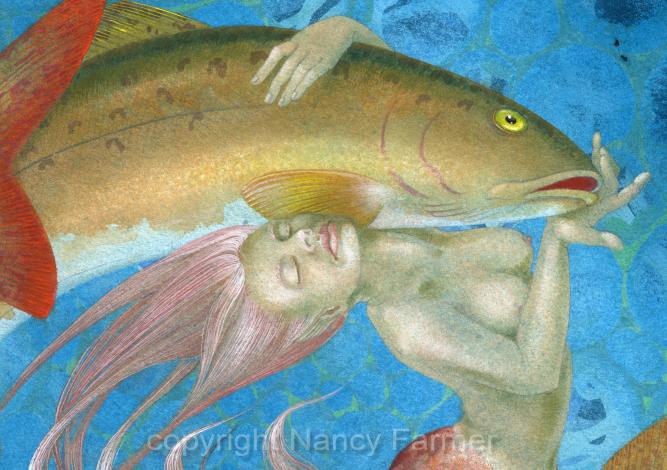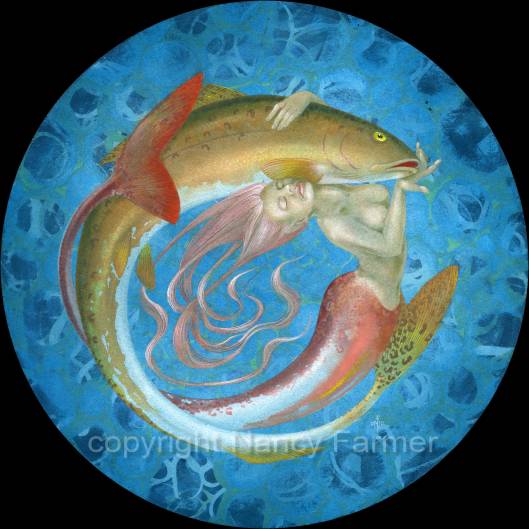 'Finderskeepers'
Another circular mermaid picture I painted was 'Finderskeepers' - to see that click the thumbnail to the left. For some reason I find that mermaids and circular paintings go very well together - I suppose it's partly that there need be no ground and no horizon, so there is nothing to upset the circular quality of the composition - but I have never yet done a fairy painting that was circular - and they don't need the ground, either, so perhaps it has more to do with the swirl of water.
All images and prints are © Nancy Farmer. Please email me if you wish to reproduce any of these images, or see my permissions page in the 'info' section.
Prints & Original Artwork
You can now buy prints of my work (and a few originals) in my Etsy Shop. If you would prefer to buy direct from me, or you cannot find what you are looking for in the shop, feel free to email me instead: mail@nancyfarmer.net. If you are interested in original artwork, I do intend to post a list of currently available artworks in due course, but I'm in the process of moving and re-building a main website, so for the meantime please also email me for more information on originals, and also commissions.