Dinner Guests
Artwork details: pencil, 22 x 11.5 inches (56 x 29 cm), 2006.
You know how this story goes... on a dark and stormy night a young and naive couple break down in the dark, in the middle of nowhere, with no other vehicle likely to be passing that way for hours. They struggle through the wind and rain to the Gothic mansion that just happens to be the only building for miles around, and ask for shelter for the night. They are warmly welcomed, and , as luck would have it they are just in time for dinner... of course they are... they are the dinner...
Scroll down to see the close-up image.
'Dinner Guests' - hungry vampires - drawing by Nancy Farmer.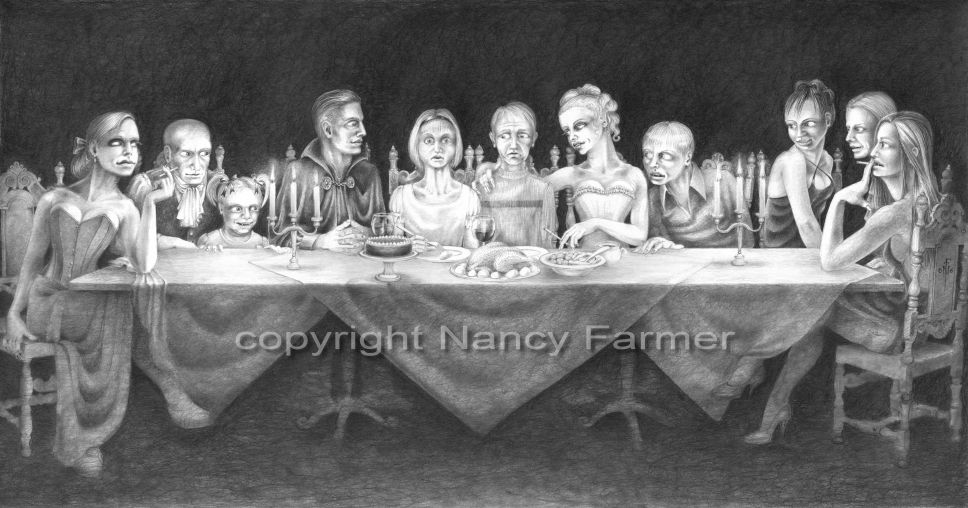 'Dinner Guests' - hungry vampires - close-up of drawing.


'Bloody Mary, or Vampire at a Cocktail Party'
I really haven't done all that many vampire pictures to date, and that's a shame as they have just as much potential for a certian kind of camp glamour as devils do. One other vampire painting that is on this website, though is Bloody Mary (or Vampire at a Cocktail Party) - to see it click the thumbnail to the left.
All images and prints are © Nancy Farmer. Please email me if you wish to reproduce any of these images, or see my permissions page in the 'info' section.
Prints & Original Artwork
You can now buy prints of my work (and a few originals) in my Etsy Shop. If you would prefer to buy direct from me, or you cannot find what you are looking for in the shop, feel free to email me instead: mail@nancyfarmer.net. If you are interested in original artwork, I do intend to post a list of currently available artworks in due course, but I'm in the process of moving and re-building a main website, so for the meantime please also email me for more information on originals, and also commissions.