Bloody Mary
Artwork details: gouache, 4.5 x 4.5 inches (11 x 11 cm), 2005.
One of the 'Drinking Girls' series of miniatures.
This is Bloody Mary, and of course that's tomato juice she's drinking.
Vampires, just like demons, are very predictable in their tastes. It doesn't show up terribly well in this image, but in the painting Bloody Mary is standing in front of her favourite wallpaper - a sombre affair in dark reds, depicting a repeat image of a heart, which begins as the general cute shape one sees on valentine's cards, and gradually transforms into the wobbly thing with tubes coming out the top - which is what a heart actually looks like (or so say the anatomy books...).
'Bloody Mary' - vampire painting by Nancy Farmer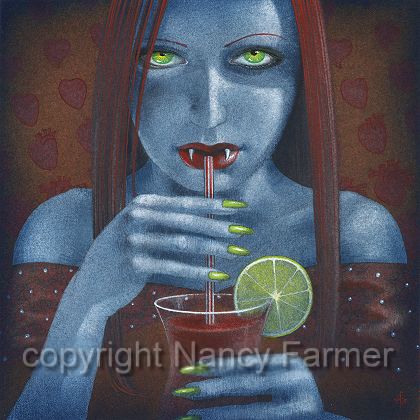 Another predictable thing is the tendency of vampires to favor the clothing of the previous century or two - being somewhat out of date with the hectic changes of modern life and fashion. This is all very well for the moment, and they cut quite a dash in Victorian gowns and the like, but it leaves one to wonder if in a few more decades they might not hit the age of the shellsuit, or start wearing white tracksuits and those big gold chains. It's all rather worrying when you start to think about it...
All images and prints are © Nancy Farmer. Please email me if you wish to reproduce any of these images, or see my permissions page in the 'info' section.
Prints & Original Artwork
You can now buy prints of my work (and a few originals) in my Etsy Shop. If you would prefer to buy direct from me, or you cannot find what you are looking for in the shop, feel free to email me instead: mail@nancyfarmer.net. If you are interested in original artwork, I do intend to post a list of currently available artworks in due course, but I'm in the process of moving and re-building a main website, so for the meantime please also email me for more information on originals, and also commissions.