Dancing Fates
Artwork details: etching, edition of 18 prints, 16 x 10.8 inches (41 x 27 cm), 2011.
This etching is particularly striking - the masks and the cloth are what one first sees, but the black is a deep velvety black, in which a surprising amount of very dark detail can be seen.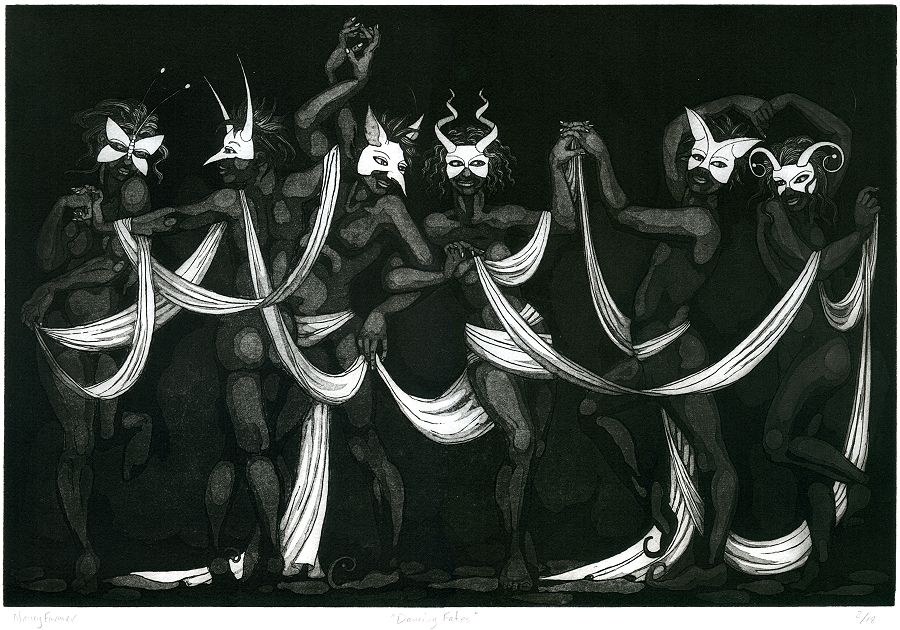 Unusually for me, there is not really a story behind this one. The composition started off as an arrangement of dancing nudes. The masks went on because that was not enough of a picture for me, and then the cloth ran through them because I didn't want them completely naked, but I was so taken with the outlines of the figures I also didn't want to clothe them. Of course, with the final treatment that this etching got, one cannot really see the much of the outlines with which I was so taken, but I re-used the composition in a painting I called 'Gilded Lilies' in which the figures have no cloth, but wear a collection of unlikely items of half-clothes that, again, were intended to add to the composition without going very far to cover the figures.
All images and prints are © Nancy Farmer. Please email me if you wish to reproduce any of these images, or see my permissions page in the 'info' section.
Prints & Original Artwork
You can now buy prints of my work (and a few originals) in my Etsy Shop. If you would prefer to buy direct from me, or you cannot find what you are looking for in the shop, feel free to email me instead: mail@nancyfarmer.net. If you are interested in original artwork, I do intend to post a list of currently available artworks in due course, but I'm in the process of moving and re-building a main website, so for the meantime please also email me for more information on originals, and also commissions.