Bull Baiting
Artwork details: etching, edition of 18 prints, 16 x 10.8 inches (41 x 27 cm), 2011.
Of course, this is not the 'Bull Baiting' of our callous and bloodthirsty modern times, but a sport played once in Gentle Antiquity...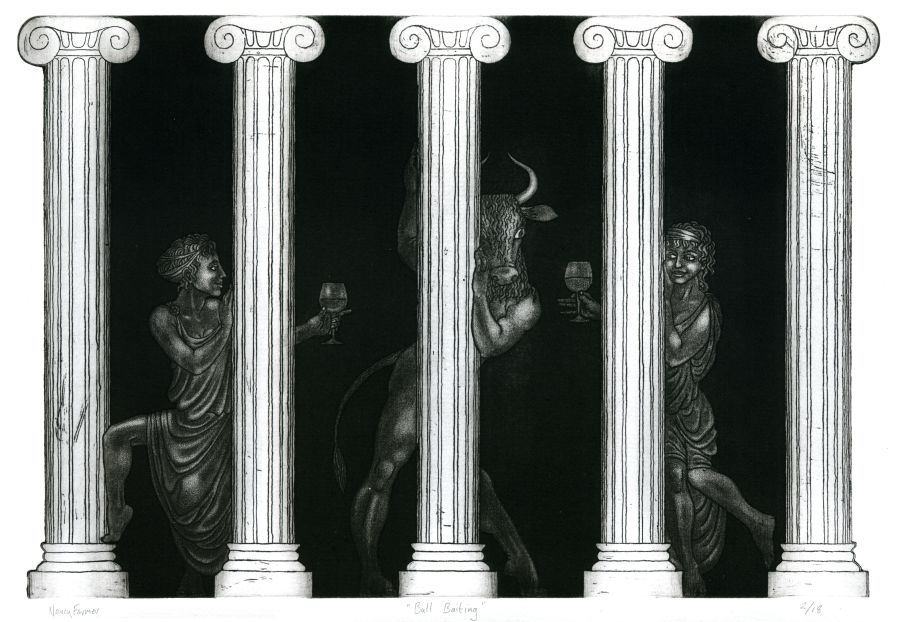 The Minotaur makes another of his (slightly camp) appearances. One hopes this is in the time before Mrs Minotaur, when he was hoof-loose and fancy-free. I do like the Minotaur, but this is the first time in my pictures that one has had a glimpse of his face, for some reason...
This etching plate is the first I have done that has shaped edges - its edges are not square, or rectangular, rather, the outline of the plate is straight across the top and bottom, but follows the outline of the pillars at the sides. This is not obvious since the edge of the image shown here is cropped square - the effect is more striking when seen in the flesh, so to speak. It's something that I'd like to explore more, but it is a question of fitting a composition to the lack of squareness.
All images and prints are © Nancy Farmer. Please email me if you wish to reproduce any of these images, or see my permissions page in the 'info' section.
Prints & Original Artwork
You can now buy prints of my work (and a few originals) in my Etsy Shop. If you would prefer to buy direct from me, or you cannot find what you are looking for in the shop, feel free to email me instead: mail@nancyfarmer.net. If you are interested in original artwork, I do intend to post a list of currently available artworks in due course, but I'm in the process of moving and re-building a main website, so for the meantime please also email me for more information on originals, and also commissions.