Better the Last Smile than the First Laughter
Artwork details: gouache and gold leaf on paper, 16.8 x 10.7 inches (43 x 27 cm), 2010.
This is the second Masquerade painting of 2010 - the first one was The Guilty Party. It seemed I simply hand not had enough of putting in gold leaf backgrounds, labour-intensive though it is, so I did another one. Plus I sold The Guilty Party very soon after painting it and I wanted another shiny picture on the wall.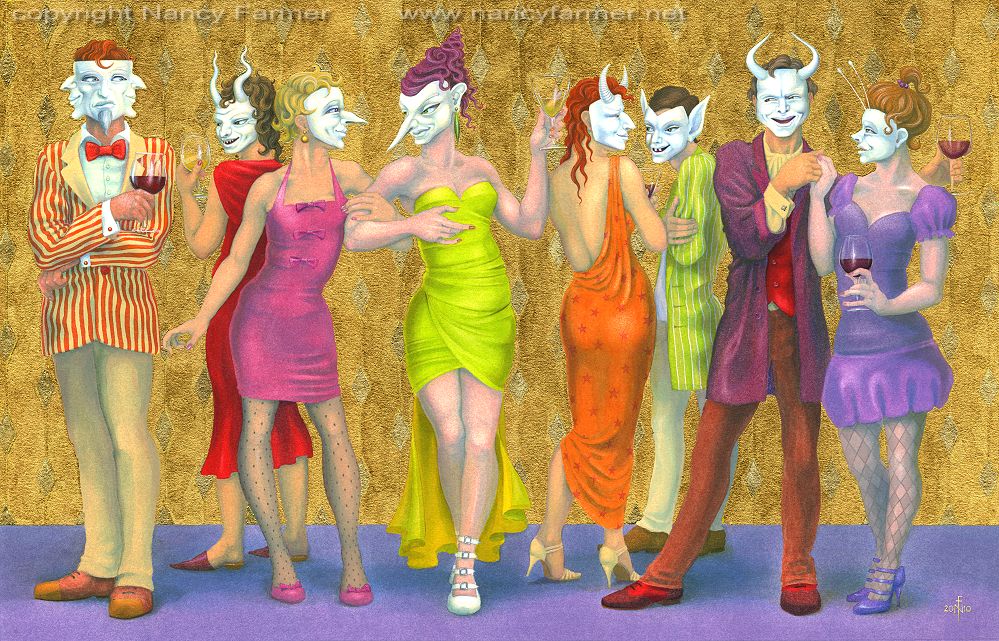 So here is another set of masked figures at something of a drinks party. Unlike the first painting this lot do not have murder weapons, but you still wouldn't want to trust them. It's the way their masks are smiling that makes me suspicious... of course they are up to something.
The fellow to the right hand side is also smiling, but only on two of his three faces, and all of these smiling faces led me to find the title I used for this painting - I'm told it's an old English Proverb, from a 1564 compilation by John Heywood, something of a precursor to proverbs and phrases such as 'the last laugh' and 'he who laughs last laughs longest', but I like the old version, it's a little more obscure in meaning and hints of trouble to come. As a title it explains nothing, but then, in this painting there is little to explain, it's all simply about having fun composing a group of figures, the nature of whose interaction with each other is left entirely to your imagination...

If you'd like to know more about how this painting was done, you can see some step-by-step images of how this painting developed in a facebook album here. And for a lot more information have a look at the painting materials section on this website, (currently a little hidden under 'info').
All images and prints are © Nancy Farmer. Please email me if you wish to reproduce any of these images, or see my permissions page in the 'info' section.
Prints & Original Artwork
You can now buy prints of my work (and a few originals) in my Etsy Shop. If you would prefer to buy direct from me, or you cannot find what you are looking for in the shop, feel free to email me instead: mail@nancyfarmer.net. If you are interested in original artwork, I do intend to post a list of currently available artworks in due course, but I'm in the process of moving and re-building a main website, so for the meantime please also email me for more information on originals, and also commissions.