Christmas 2001: Mistletoe
Artwork details: gouache, 7 x 10 inches (18 x 25 cm), 2001.
Poor old Satan, there he is, with all of Hell to organize, and a bloke ought to be able to have a sit-down with a nice glass of wine after a heavy day of persecution and torturing the damned... and the bloody Serpent comes up with a twig of mistletoe and a big cheesy grin and wants a kiss! And all the bloody imps and devils around are busy wrapping presents and hanging up Christmas decorations, too. I mean, you'd think being damned for all eternity would at least get you out of Christmas, but no! all the bloody relatives are probably coming for dinner, too. And there's be Gabriel looking all smug and superior as usual, and there'll probably be another fight over who's fault it was. And Satan will get the blame as usual. Honestly, it's enough to turn a bloke to evil ways just thinking about it...
'Mistletoe' - Christmas card design for 2001.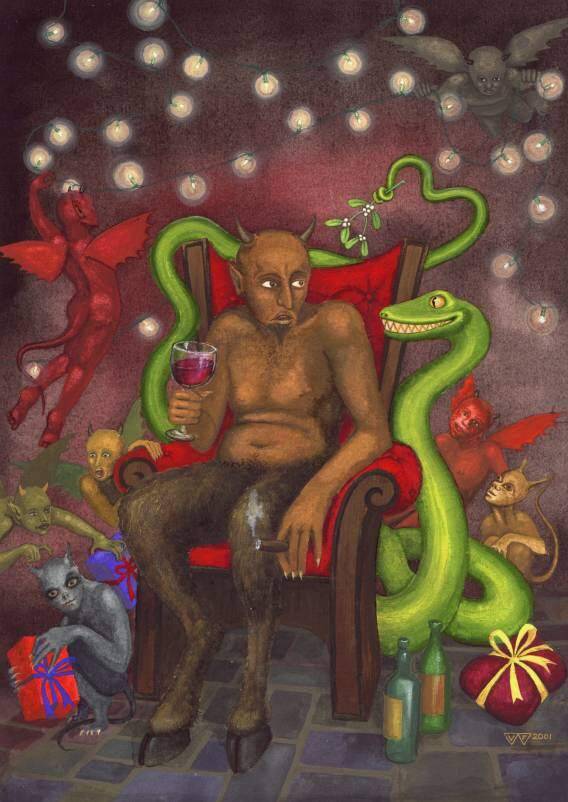 All images and prints are © Nancy Farmer. Please email me if you wish to reproduce any of these images, or see my permissions page in the 'info' section.
Prints & Original Artwork
You can now buy prints of my work (and a few originals) in my Etsy Shop. If you would prefer to buy direct from me, or you cannot find what you are looking for in the shop, feel free to email me instead: mail@nancyfarmer.net. If you are interested in original artwork, I do intend to post a list of currently available artworks in due course, but I'm in the process of moving and re-building a main website, so for the meantime please also email me for more information on originals, and also commissions.