Christmas 1993: Cherubs
Artwork details: pen and gold ink, 5 x 3 inches (13 x 8 cm), 1993.
This card was actually a black photocopied design on coloured paper, with gold paint added to each card, and that was the first and last time I hand-coloured all the Christmas cards!
I made Tony a slightly different set of cards to use - his weren't hand coloured, but he did have a wicked female cherub, too, as an alternative design... Sadly I think this one has been lost in the mists of time and I cannot now find a single image of it.
Rude Cherubs - drawing by Nancy Farmer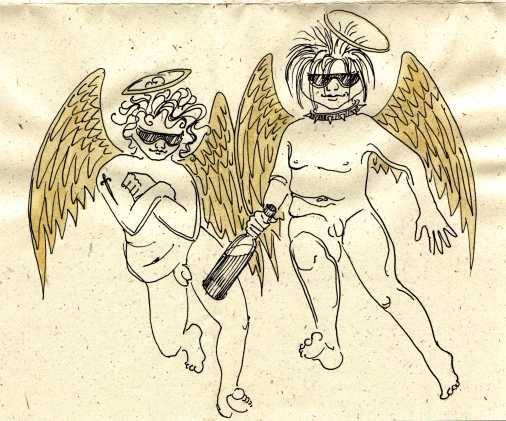 This drawing has the honour of being the oldest image on the site, unless I ever upload some stuff from when I was very young, and it dates to about 6 years before I started painting - back then I just did the once-a-year Christmas card, and this is the first one.
All images and prints are © Nancy Farmer. Please email me if you wish to reproduce any of these images, or see my permissions page in the 'info' section.
Prints & Original Artwork
You can now buy prints of my work (and a few originals) in my Etsy Shop. If you would prefer to buy direct from me, or you cannot find what you are looking for in the shop, feel free to email me instead: mail@nancyfarmer.net. If you are interested in original artwork, I do intend to post a list of currently available artworks in due course, but I'm in the process of moving and re-building a main website, so for the meantime please also email me for more information on originals, and also commissions.