Watering the Pot Plants
Artwork details: gouache, 12.5 x 18.5 inches (32 x 47 cm), 2006.
The theme of this painting is something I had thought about ages ago - something along those lines anyway - after all, while pot plants are not all that likely a concept in Hell, if the Devil is down there for an eternity then he's bound to get round to trying out some of the more unlikely activities just to relieve the tedium of having to torment the dammed every day - and it will make the place a little more cheerful, no doubt. Of course it had to be cacti.... I did briefly consider ferns since they grow with very little light - the sort you get half way down wells and so on - but in the end I thought I ought to go with the no-water motif.
I was rather pleased with the detail of the cacti spines, so if you scroll down you'll find a couple of close-up images, too.
The Devil, watering Hell's few pot plants.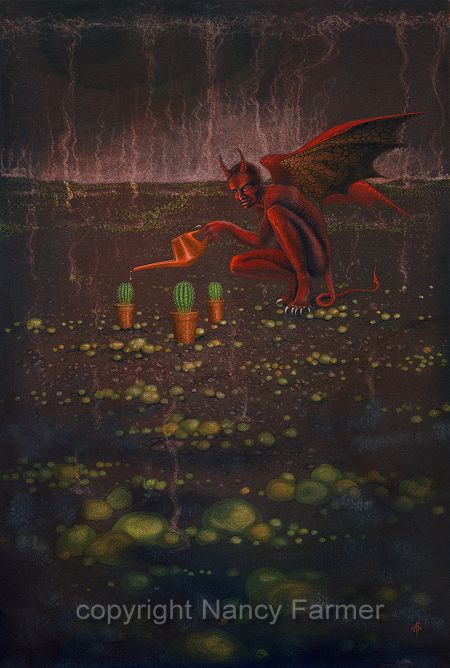 The plastic watering can is actually one I own. It came from Boots and I was quite picky about replicating exactly that shade of unnatural orange. I expect they have a Boots in Hell. It would sell a lot of cough mixture, because of the harsh, sulphurous smoky air, and it would be exactly as effective as the cough mixture they sell up here.... only probably not as tasty.
Satan's cactus.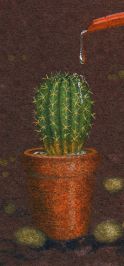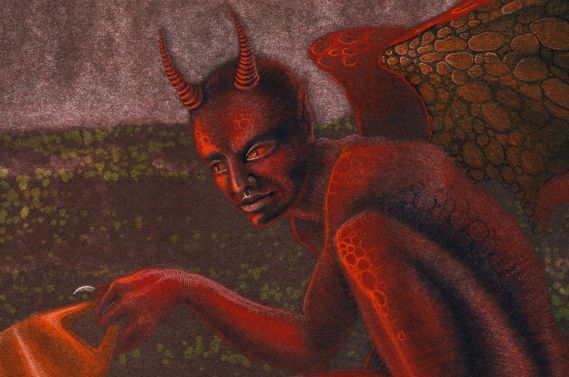 An alternative thought occurred to me when I was sketching this one - that maybe instead I could have had a little crack in the ground opening up, with a carefully-tended weed sprouting out of it like weeds out of concrete - but I rather rejected it on the grounds of too much metaphor and not enough silliness - hope springs eternal and all that sort of stuff. I'm not sure I'm all that big on Metaphor - if I paint a painting of the Devil watering pot plants it is because I intend to show that maybe the Devil has some pot plants that need watering. He might.
All images and prints are © Nancy Farmer. Please email me if you wish to reproduce any of these images, or see my permissions page in the 'info' section.
Prints & Original Artwork
You can now buy prints of my work (and a few originals) in my Etsy Shop. If you would prefer to buy direct from me, or you cannot find what you are looking for in the shop, feel free to email me instead: mail@nancyfarmer.net. If you are interested in original artwork, I do intend to post a list of currently available artworks in due course, but I'm in the process of moving and re-building a main website, so for the meantime please also email me for more information on originals, and also commissions.