The Tooth Fairy
Artwork details: gouache, 12.5 x 18.5 inches (32 x 47 cm), 2001.
Tooth Fairy: whole picture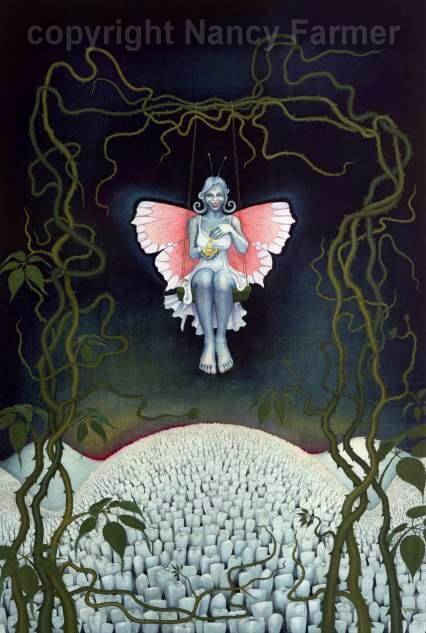 I always thought there was something rather suspicious about the Tooth Fairy - what does she want all those teeth for anyway? It's a very old idea in magical beliefs that possession of a part of someone gives you power over them - and with modern research into DNA we've rather come full circle back to the same thing.
In my picture the Tooth Fairy's motives are not apparent, she appears to be an obsessive collector - and she is offering you money for your teeth... all the same I wouldn't trust the Tooth Fairy.
Tooth Fairy: detail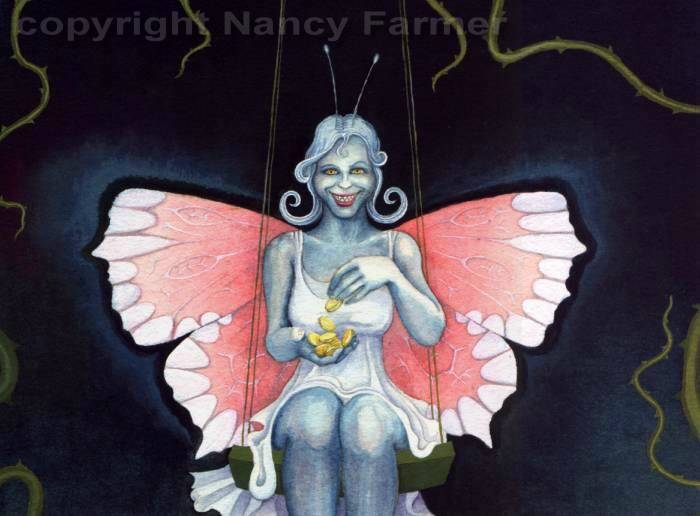 All images and prints are © Nancy Farmer. Please email me if you wish to reproduce any of these images, or see my permissions page in the 'info' section.
Prints & Original Artwork
You can now buy prints of my work (and a few originals) in my Etsy Shop. If you would prefer to buy direct from me, or you cannot find what you are looking for in the shop, feel free to email me instead: mail@nancyfarmer.net. If you are interested in original artwork, I do intend to post a list of currently available artworks in due course, but I'm in the process of moving and re-building a main website, so for the meantime please also email me for more information on originals, and also commissions.