The Wrong Cocktail Bar
Artwork details: pencil, 21 x 16 inches (53 x 41 cm), 2005.
Devils quite like to socialize: many of them are very gregarious by nature. They tend to hang around in bars because they are so much more interesting than hanging around in Hell, which is mostly just rocks and fiery lakes and a bit lifeless.
Demons in a bar - picture by Nancy Farmer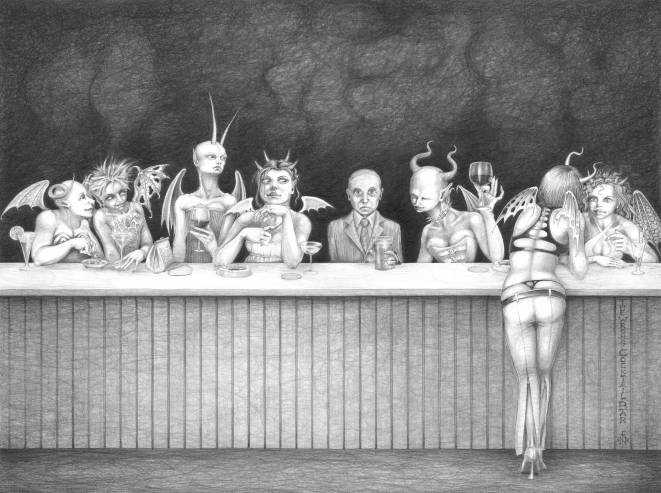 You've probably seen them, you just didn't realize they were demons at all. Probably you thought they were teenagers, but have you ever walked into a bar where you just had that feeling you shouldn't be there at all?. The rather sad gentleman in the centre of the picture here did just that.
There he sits, refusing to leave until he's finished his pint - because that would be to admit he's in the wrong place, even though he knows he is, and worse, he knows they know it too.
Demons in a bar - close-up detail

He's causing a bit of a stir amongst the regulars who are regarding him as something of a novelty (and possibly one or two of them are secretly hoping he'll turn out to be some kind of weird stripogram (demons are very keen on cabaret-style entertainment and tend to do a lot of people-watching not so much for an opportunity to turn them to evil but just in case they do something vaguely amusing).

'The Wrong Bar: Part Two'
Of course the same thing can embarrassingly happen to demons. They are liable to the occasional mistake you know â?? and just like us, hate to be caught out and made to look a pillock. There is infact a counterpart to this drawing, and that's 'The Wrong Bar: Part Two' (click chumbnail to the left to see it). In that, a rather smartly dressed devil - probably not the sort you'd mistake for a teenager - has walked into the wrong bar, too. In general humans and demons don't mix well in bars, it tends to lead to fights, and it's not to be recommended.
All images and prints are © Nancy Farmer. Please email me if you wish to reproduce any of these images, or see my permissions page in the 'info' section.
Prints & Original Artwork
You can now buy prints of my work (and a few originals) in my Etsy Shop. If you would prefer to buy direct from me, or you cannot find what you are looking for in the shop, feel free to email me instead: mail@nancyfarmer.net. If you are interested in original artwork, I do intend to post a list of currently available artworks in due course, but I'm in the process of moving and re-building a main website, so for the meantime please also email me for more information on originals, and also commissions.