The Monsters who wanted my Ice Cream
Artwork details: gouache, graphite pencil, 18 x 18 inches (46 x 46 cm), 2005.
What happens next is anyone's guess...
'The Monsters who wanted my Ice Cream' - painting by nancyfarmer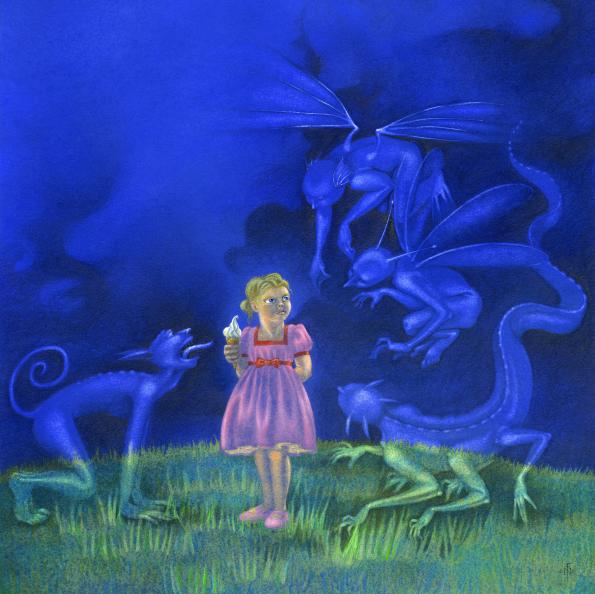 In this picture I painted the whole thing in gouache first, but without the monsters, and they went in last. The monsters are done entirely in graphite pencil - the white and pale areas are where I've removed the paint by scrubbing and scratching the paper.
The only bit that doesn't reproduce quite as in the originals are the darkest areas of pencil - since these are shiny they have picked up some light and appear a little brownish, but overall it reproduced extremely well for such an odd-coloured piece.
'The Monsters who wanted my Ice Cream' - close-up detail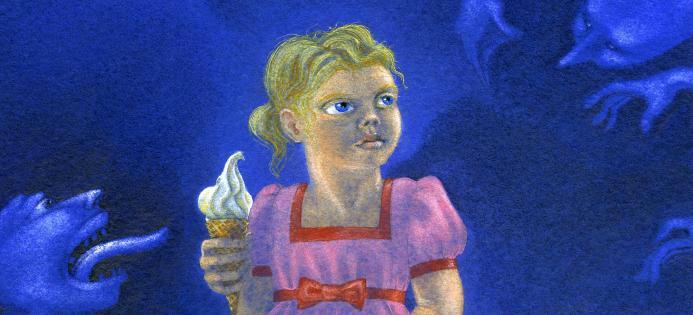 All images and prints are © Nancy Farmer. Please email me if you wish to reproduce any of these images, or see my permissions page in the 'info' section.
Prints & Original Artwork
You can now buy prints of my work (and a few originals) in my Etsy Shop. If you would prefer to buy direct from me, or you cannot find what you are looking for in the shop, feel free to email me instead: mail@nancyfarmer.net. If you are interested in original artwork, I do intend to post a list of currently available artworks in due course, but I'm in the process of moving and re-building a main website, so for the meantime please also email me for more information on originals, and also commissions.