Absinthe, or The Green Fairy
Artwork details: gouache, 4.5 x 4.5 inches (11 x 11 cm), 2005.
One of the 'Drinking Girls' series of miniatures.
Absinthe, otherwise known as The Green Fairy, is a ludicrously strong drink with a bad reputation, drunk in large quantities by artists such as Van Gough, and Toulouse Lautrec. It was also reputed to have hallucinogenic properties, owing to the use of the plant Wormwood, a neurotoxin, it its preparation; though modern versions apparently contain little of this. I have taken a rather literal reading of the name for this picture, and in honour of the 70% abv of Absinthe (almost twice that of Whiskey) have made this little fairy the only one of my 'Drinking Girls' who is actually completely pished...
'Absinthe' or 'The Green Fairy' - painting by Nancy Farmer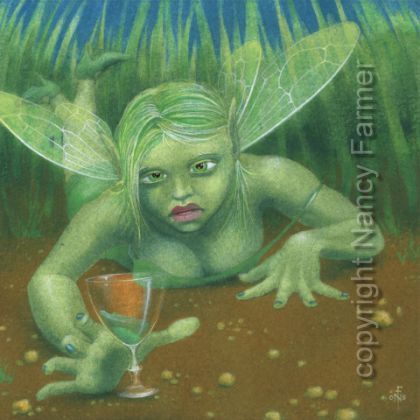 All images and prints are © Nancy Farmer. Please email me if you wish to reproduce any of these images, or see my permissions page in the 'info' section.
Prints & Original Artwork
You can now buy prints of my work (and a few originals) in my Etsy Shop. If you would prefer to buy direct from me, or you cannot find what you are looking for in the shop, feel free to email me instead: mail@nancyfarmer.net. If you are interested in original artwork, I do intend to post a list of currently available artworks in due course, but I'm in the process of moving and re-building a main website, so for the meantime please also email me for more information on originals, and also commissions.