The Ashtray Overnight
Artwork details: gouache, 8 x 10 inches (20 x 25 cm), 2005.
Ever leave an ashtray out overnight without tipping the contents in the bin and shutting the lid on it, only to find next morning that the whole room stinks of cigarettes?
Detail of 'The Ashtray Overnight' painting by Nancy Farmer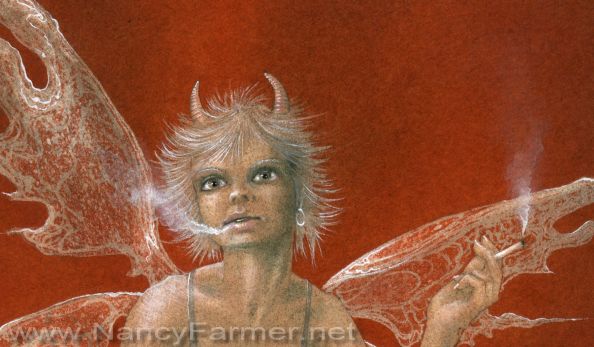 Well this painting shows the little fairy who's the cause if it. Leave a nice warm ashtray out overnight and you'll find this disreputable individual moving into it - and into your sittingroom!
This is a fairy not to be trusted, she has some rather unpleasant habits, and once she moves in, she is difficult to shift. Though gray and ashy she nonetheless has a certain dusty glamour, proving once again that smoking (lamentably) makes you look cool...
Fairy Art by Nancy Farmer: 'The Ashtray Overnight'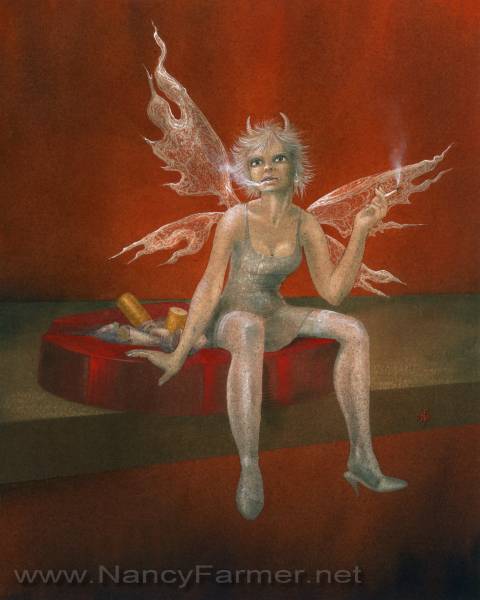 All images and prints are © Nancy Farmer. Please email me if you wish to reproduce any of these images, or see my permissions page in the 'info' section.
Prints & Original Artwork
You can now buy prints of my work (and a few originals) in my Etsy Shop. If you would prefer to buy direct from me, or you cannot find what you are looking for in the shop, feel free to email me instead: mail@nancyfarmer.net. If you are interested in original artwork, I do intend to post a list of currently available artworks in due course, but I'm in the process of moving and re-building a main website, so for the meantime please also email me for more information on originals, and also commissions.