The Tattooist
Artwork details: pencil, 15.5 x 14 inches (39 x 36 cm), 2006.
A Demon Tattooist, with a rather sultry, or maybe just stroppy looking angel, who is so going to get in trouble for this...
Scroll down to see a close-up image.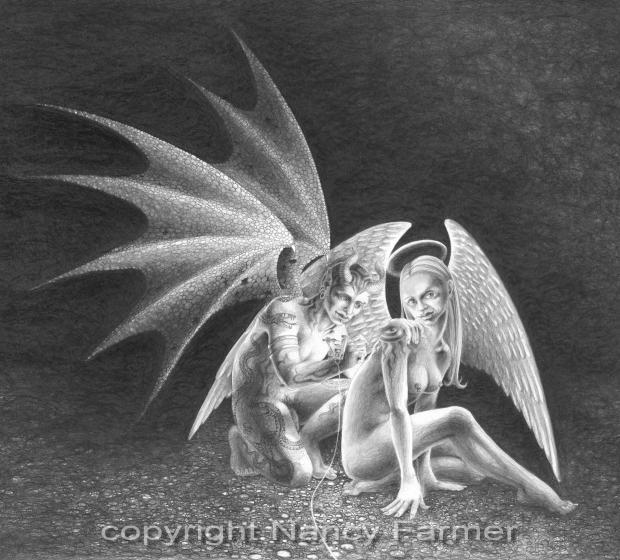 Sometimes the characters in my drawings will not behave! The pair were going to be a female demon and angel, but, well after a struggle, the demon had his own way, as demons will. I also wondered what sort of tattoo to put on the demon - as clearly it had to be something fairly substantial and not a small insignificant time. Then of course I realized that the Serpent by far the most appropriate subject - well at least two serpents to be precise.
A Demon Tattooist - drawing in pencil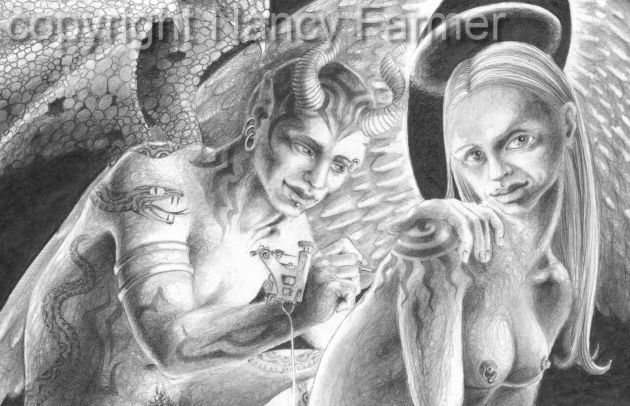 All images and prints are © Nancy Farmer. Please email me if you wish to reproduce any of these images, or see my permissions page in the 'info' section.
Prints & Original Artwork
You can now buy prints of my work (and a few originals) in my Etsy Shop. If you would prefer to buy direct from me, or you cannot find what you are looking for in the shop, feel free to email me instead: mail@nancyfarmer.net. If you are interested in original artwork, I do intend to post a list of currently available artworks in due course, but I'm in the process of moving and re-building a main website, so for the meantime please also email me for more information on originals, and also commissions.