Christmas 2002: The Spanking Fairy
Artwork details: gouache, 8 x 11.5 inches (20 x 29 cm), 2002.
Not a fairy to mess with! - painting by Nancy Farmer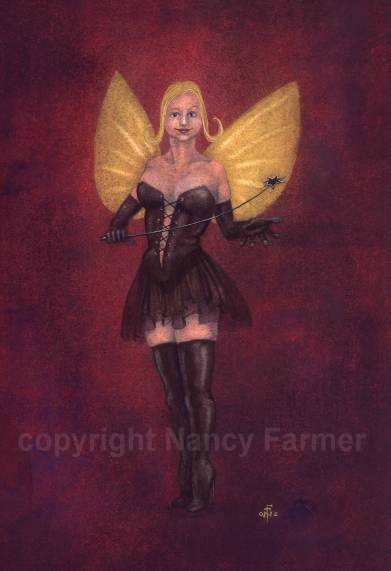 This was one of those ideas that just developed over time - yet again I needed an idea for the annual Christmas card, and somehow a rather stern fairy hefting her wand seemed to fit the bill. Later she permanently acquired the title of the 'Spanking Fairy' - well there's a fairy for everything - didn't you know?
There was once a real, three-dimensional 'Spanking Fairy', too - I think it was the the Christmas after I sent that particular painting as a Christmas card:
Formerly we'd had a little devil on the Christmas tree - another doll that I'd dressed up meticulously for the part, and she'd done nicely for the two years before. But I thought a change would be good and so I did another doll, and this time she wasn't a devil, but a sort of naughty fairy, complete with hand-stitched leather dress and a little leather whip. But this is the start of a much longer story as it was one of the things that set me going off on the route of the 'Fetishdollies' photographs - and that got really quite silly and rude in the end... If you want to see those, you'll have to visit my other site - click the banner below.
But remember what I said about rude...!
All images and prints are © Nancy Farmer. Please email me if you wish to reproduce any of these images, or see my permissions page in the 'info' section.
Prints & Original Artwork
You can now buy prints of my work (and a few originals) in my Etsy Shop. If you would prefer to buy direct from me, or you cannot find what you are looking for in the shop, feel free to email me instead: mail@nancyfarmer.net. If you are interested in original artwork, I do intend to post a list of currently available artworks in due course, but I'm in the process of moving and re-building a main website, so for the meantime please also email me for more information on originals, and also commissions.