Sleeping Beauty
Artwork details: gouache, 17 x 27 inches (43 x 69 cm), 2002.
This is rather a gothic version of Sleeping Beauty - not the usual cute fairytale sort. All the dark, gloomy empty space around Sleeping Beauty rather happened by accident - as, when I drew this picture out it was supposed to be covered in vines which were to twine all over the place and which I spent many hours composing in detail...
Detail of 'Sleeping Beauty' - painting by Nancy Farmer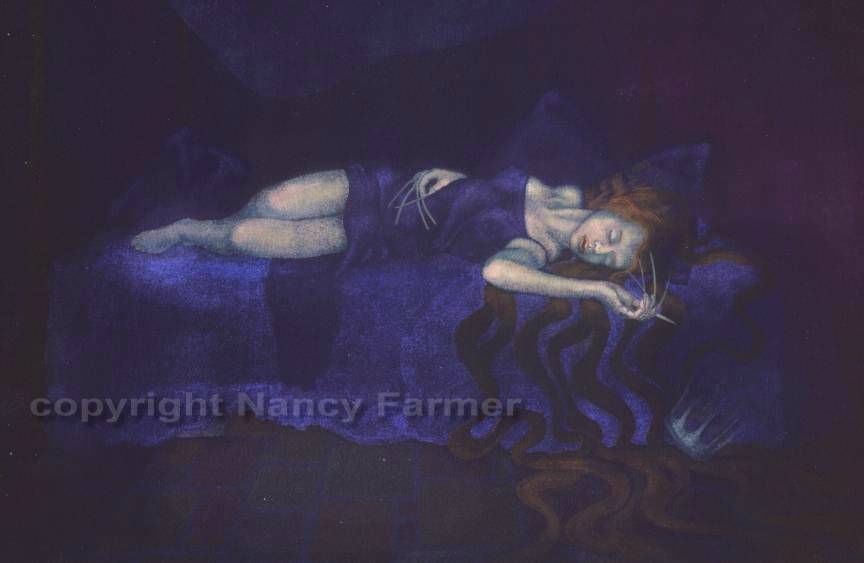 Then I came to paint the picture, which I did using a similar method to that which I've taken photos of in the step-by-step photos of 'Dinner for Two'. If you look at this set of photos you'll see that I actually paint a lot of the detail of the picture first, and then paint over that with very dark paint, only later revealing the original painting by wetting and removing some of the second, dark layer on top. (click the link and I hope you'll see what I mean).
'Sleeping Beauty' - the whole painting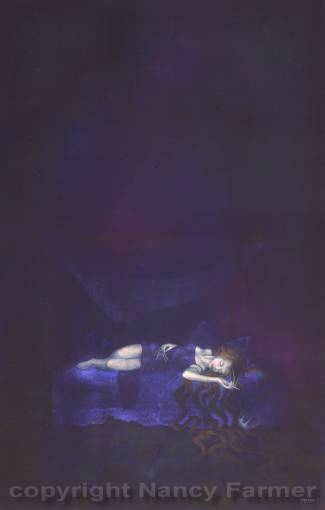 At a certain point then, I had a painting very much emptier than I'd intended, where Sleeping Beauty was more-or-less floating, serenely, in a sea of dark blues and purples, almost nothing else visible except for her crown, fallen to the floor, and her hair, which spread out into the darkness - it was nothing like what I'd originally planned for this painting - with its trailing vines (and I think slugs, also, where included in the original composition!) And I stood back from the painting and decided it would spoil it if I went any further - or at least change it into something very different, and loose the dark quality it had. So I simply worked up some of the details around Sleeping Beauty herself, and left it at that.
I don't think I ever actually drew the vines in, but a lot of other details are hidden beneath the gloom - the tiles on the floor and the four-poster bead that Beauty lies on are just visible. The bed's canopy, falling into ruin, is visible as a shape hanging above her, and a little more can be seen in strong light. I forget if there was anything painted above that, but if there was you can't see it anymore... so that's the story of this painting - I rather like the idea that there's something there that will never be seen again - though I shouldn't make a habit of it or every painting will take me twice as long...
Moorlynch Brandy, complete with the Sleeping Beauty label
My parents particuarly liked this painting - in fact they used it for a brandy label (they used to have a vineyard and once made two casks of very fine English Brandy). The brandy was called Sleeping Beauty - because they liked the painting and because brandy must sleep, maturing in the casks, not for a hundred years like the real Sleeping Beauty, but for at least 5 for it to even be considered proper brandy... So they used the painting for the label, as you can see above.
And one last thing before I leave this subject - no: Sleeping beauty has not fallen asleep having a crafty smoke! - she's slept for so long her fingernails have grown out to enormous lengths, like daggers, just as her hair has tumbled across the floor - I have been asked before, and more than once, if she has a cigarette in her hand...
All images and prints are © Nancy Farmer. Please email me if you wish to reproduce any of these images, or see my permissions page in the 'info' section.
Prints & Original Artwork
You can now buy prints of my work (and a few originals) in my Etsy Shop. If you would prefer to buy direct from me, or you cannot find what you are looking for in the shop, feel free to email me instead: mail@nancyfarmer.net. If you are interested in original artwork, I do intend to post a list of currently available artworks in due course, but I'm in the process of moving and re-building a main website, so for the meantime please also email me for more information on originals, and also commissions.