Sirens on the Rocks
Artwork details: gouache, 29 x 11 inches (74 x 28 cm), 2007.
'Sirens on the Rocks' - painting by Nancy Farmer

This is another painting of the Maidmers. This time they've got a bit more confident about their - um - assets. So confident, in fact, that they've moved in on the siren's (or mermaid's) patch - who are really not appreciating the healthy competition.
It's rather a mystery to me anyway why mermaids moon about on rocks, luring ships, only to (somewhat hypocritically) mourn over the drowned sailors. I suppose it's just because they can, and it makes a change from sitting around brushing their hair, which is about the only other thing that they are good for. It's the tails, you see: they just can't get out and about and it's embarrassing to be seen flopping about on a beach like and idiot and run the risk of Greenpeace coming along and trying to re-float you.
'Sirens on the Rocks' - close-up of painting

The Maidmers, on the other hand, now they may be creatures that are going places. They're probably seen as young upstarts, carelessly casting aside the shackles of tradition in favour of upward mobility and instant gratification. Yes, the Maidmers are quite aware that they're not the prettiest of creatures, but they have a realistic approach to life - they have a nice pair of legs, and a growing collection of unsuitable shoes. And they're determined to make the best of it. Very soon they'll probably be strutting their stuff along the dockside, and then there'll be trouble.
'Sirens on the Rocks' - close-up of mermaids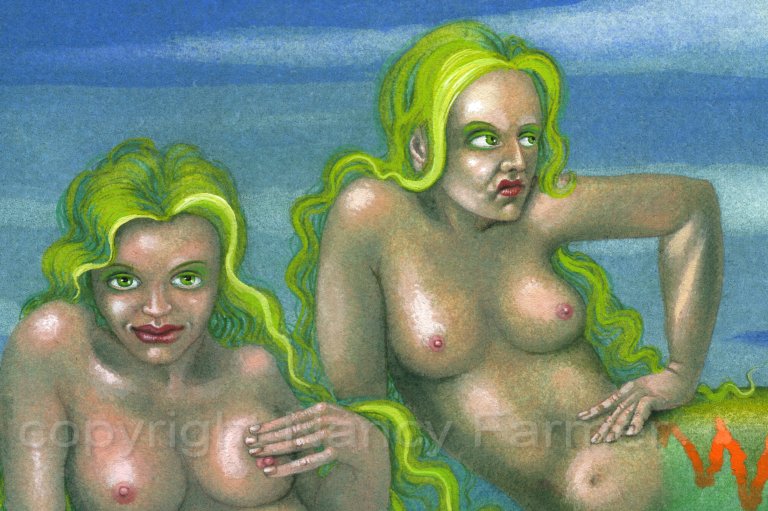 'Maidmers on the Beach'
I painted a couple of more 'natural' Maidmers in the painting 'Maidmers on the Beach' (see thumbnail left), but those ones were emerging very nervously from the water, aware of their differences from the Mermaids. They seem to have got over their shyness nowadays...
All images and prints are © Nancy Farmer. Please email me if you wish to reproduce any of these images, or see my permissions page in the 'info' section.
Prints & Original Artwork
You can now buy prints of my work (and a few originals) in my Etsy Shop. If you would prefer to buy direct from me, or you cannot find what you are looking for in the shop, feel free to email me instead: mail@nancyfarmer.net. If you are interested in original artwork, I do intend to post a list of currently available artworks in due course, but I'm in the process of moving and re-building a main website, so for the meantime please also email me for more information on originals, and also commissions.