Rubik's Cube
Artwork details: gouache, 13.2 x 19.5 inches (34 x 50 cm), 2010.
I always thought there was something a little demonic about Rubik's Cubes. They are not of this world, and I'm quite sure that if twisted just so they will open up whole new dimensions. They probably shouldn't be allowed, especially in the hands of such a mischievous -looking fairy.
This painting also featured as 'January' in my 2012 calendar: the only one of the 12 pictures not created especially for the calendar, but he fitted in very well. Scroll down for the close-ups of this painting...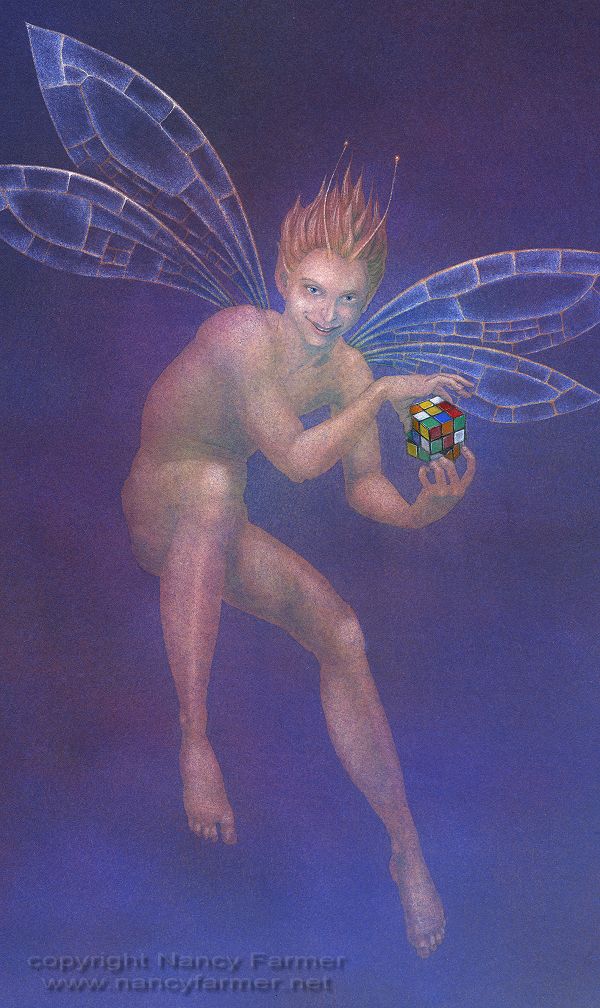 All images and prints are © Nancy Farmer. Please email me if you wish to reproduce any of these images, or see my permissions page in the 'info' section.
Prints & Original Artwork
You can now buy prints of my work (and a few originals) in my Etsy Shop. If you would prefer to buy direct from me, or you cannot find what you are looking for in the shop, feel free to email me instead: mail@nancyfarmer.net. If you are interested in original artwork, I do intend to post a list of currently available artworks in due course, but I'm in the process of moving and re-building a main website, so for the meantime please also email me for more information on originals, and also commissions.