Pistils and Stamens
Artwork details: three paintings in gouache, now framed separately, 10 x 15 inches (25 x 38 cm), 2006.
I wanted to do a painting of the sort of Flower Fairies who inhabit those sort of flowers - you know the sort that make you snigger (if you are as childish as me, at any rate). This was tricky as, back in March when I actually painted this, there wasn't a single Aurum Lilly in flower - the one on the far right in the image below, which is the sort of flower I'd thought of first.... so I popped down the road where I confused a very nice florist by attempting to tactfully explain the sort of flower I was looking for. To cut a long story short I came back with a potted one of the thing on the left, which is called something unpronounceable, and a stem of the lily in the middle. The Aurum Lily was from photos. When I started out I rather imagined I would put more foliage in, but in the end I went for the structure and simplicity of each flower on its own.
Scroll across if you can't see all three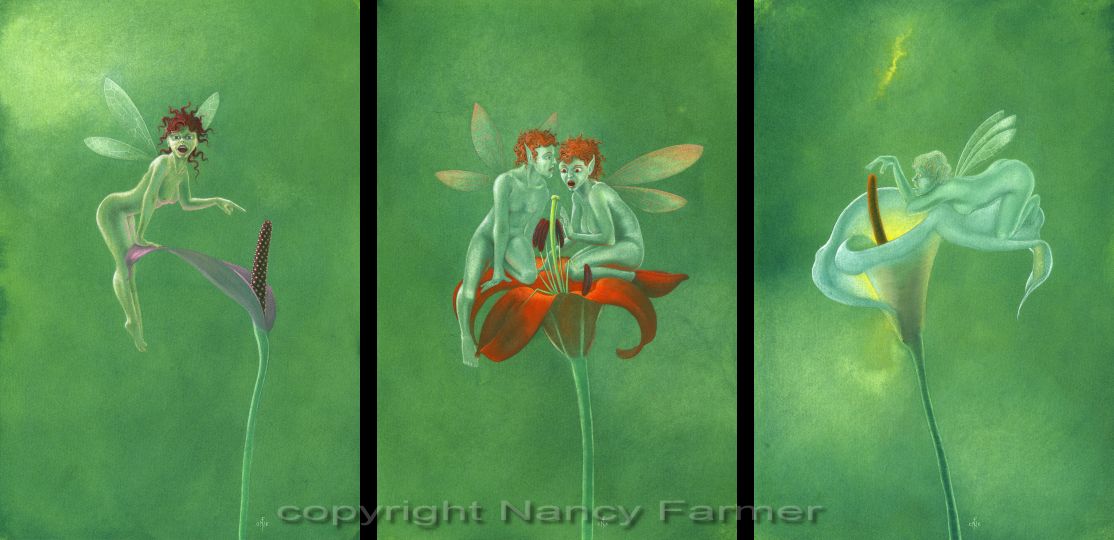 Fairy Art: 'Pistils and Stamens'
Actually they maybe aren't rude fairies themselves, I think - they're rather excitable and easily shocked by the look of them. On a botanical note - as suggestive objects these are actually all the wrong way round - the phallic sticking-up bit if each flower is actually the pistil - the female part. The stamens are the male bit with the pollen and all that - the purple bits around the pistil on the orange lily. On the other two flowers it is maybe a combined pistil and stamens, I'm not sure - I didn't really think it was my business to enquire on such a personal level...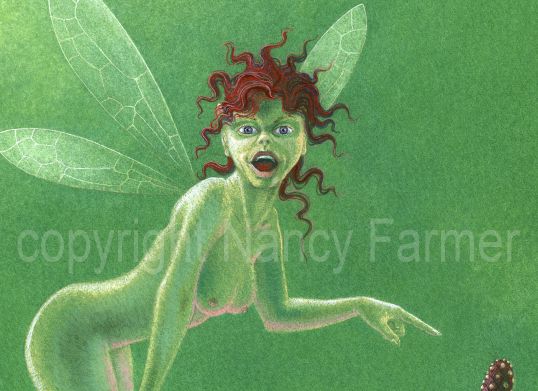 Fairy Art
by Nancy Farmer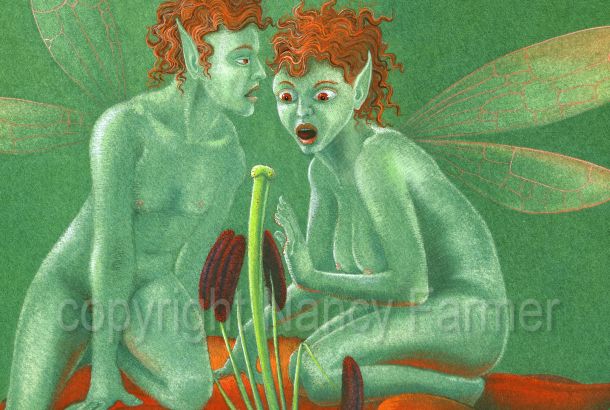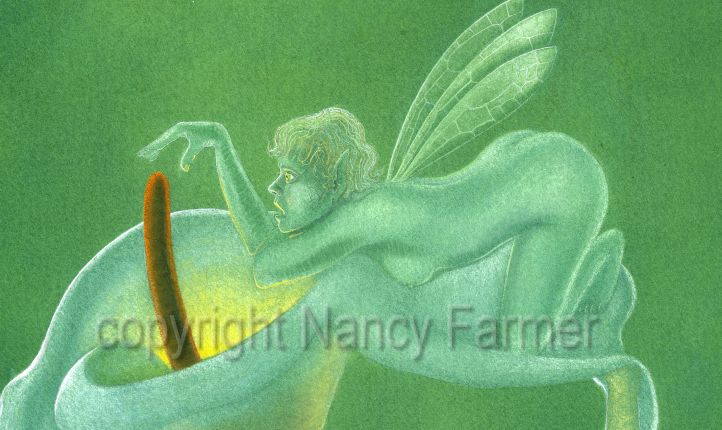 All images and prints are © Nancy Farmer. Please email me if you wish to reproduce any of these images, or see my permissions page in the 'info' section.
Prints & Original Artwork
You can now buy prints of my work (and a few originals) in my Etsy Shop. If you would prefer to buy direct from me, or you cannot find what you are looking for in the shop, feel free to email me instead: mail@nancyfarmer.net. If you are interested in original artwork, I do intend to post a list of currently available artworks in due course, but I'm in the process of moving and re-building a main website, so for the meantime please also email me for more information on originals, and also commissions.