Poison Flower Fairies: Nicotiana, the Tobacco Plant Fairy
Artwork details: Gouache and watercolour, 13.2 x 19.5 inches (34 x 50 cm), 2012.
In the Pantheon of Poison Flower Fairies, poor Nicotiana is more of a victim than an agitator. Yes, she may be responsible for a higher death toll than all the other fairies put together, but it seems she is powerless to stop it. She is inextricably tangled in the machinations of wealthy and power-hungry corporations. She never meant it to come to this. She never meant to get political, though goodness knows she fattens the coffers of the Inland Revenue year after year. It was just a little deviation that got right out of hand...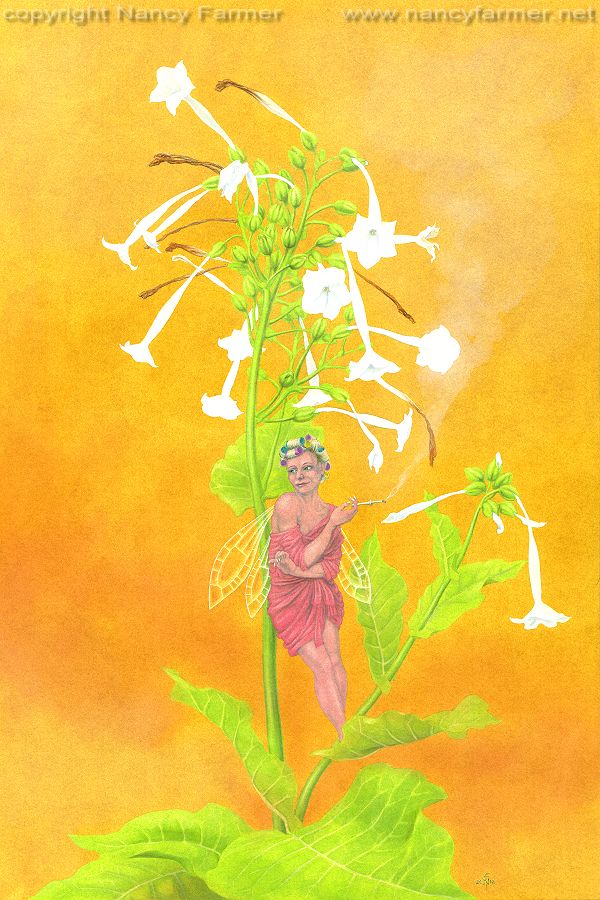 So, here lurks Nicotiana in her dressing-gown and rollers. She can still do glamorous, with her bleached hair and heavy mascara, but it doesn't come naturally. Inside she is a vulnerable little fairy, both adored and profoundly unpopular.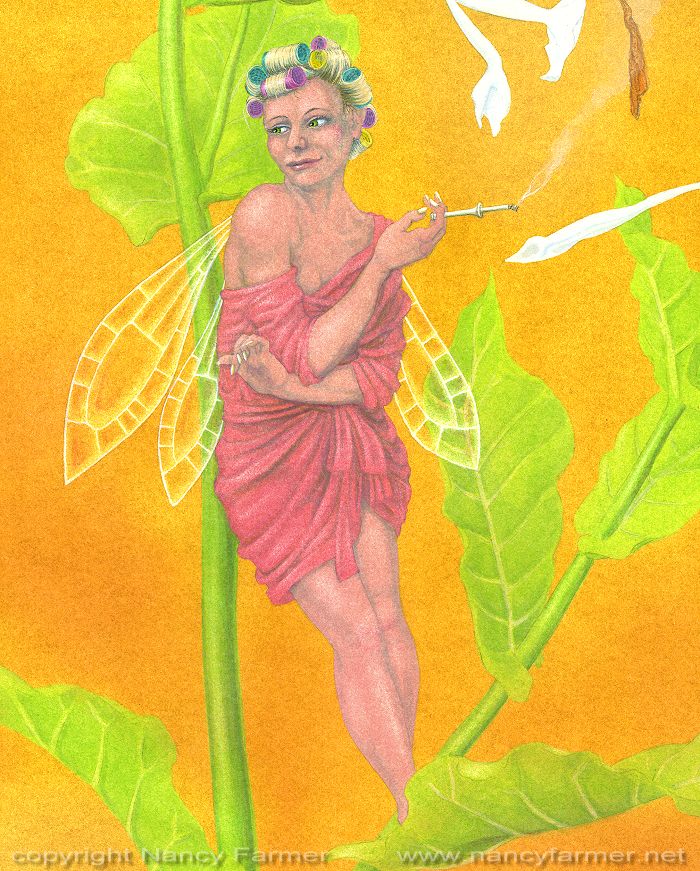 The particular plant that I chose for this portrait was past its best before I even thought of the idea of the Poison Flower Fairies, but I used it anyway: there was something appropriately seedy about it. I like the way the dead and almost-finished flower heads look like smoked cigarettes, and also the way the fresh flower heads look like old-fashioned cigarette holders.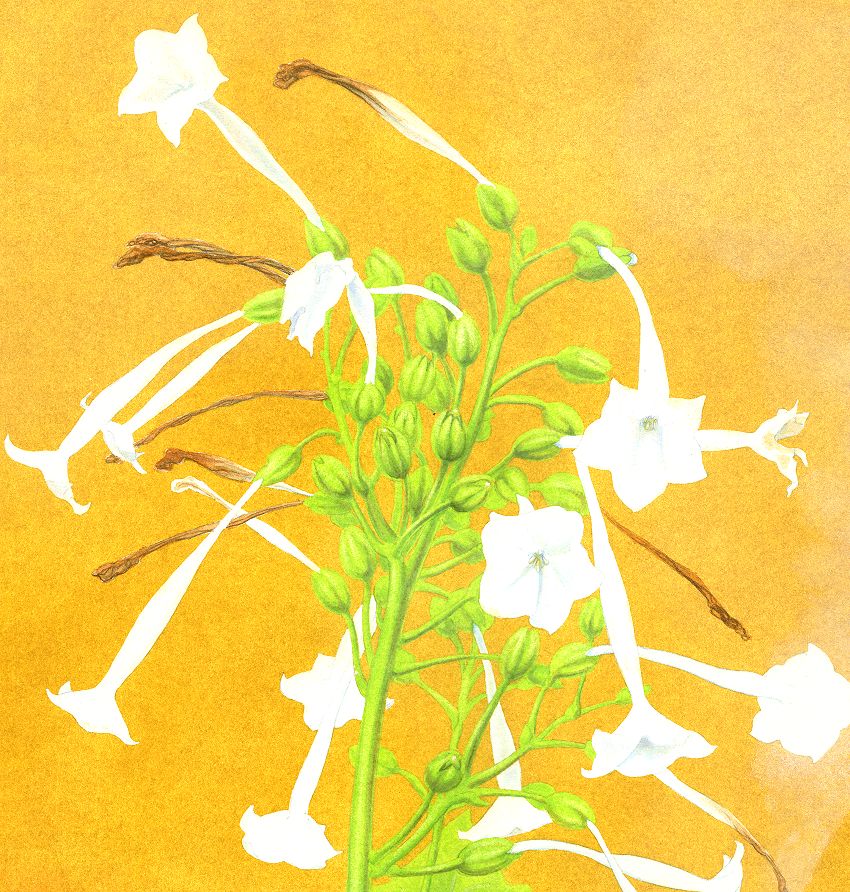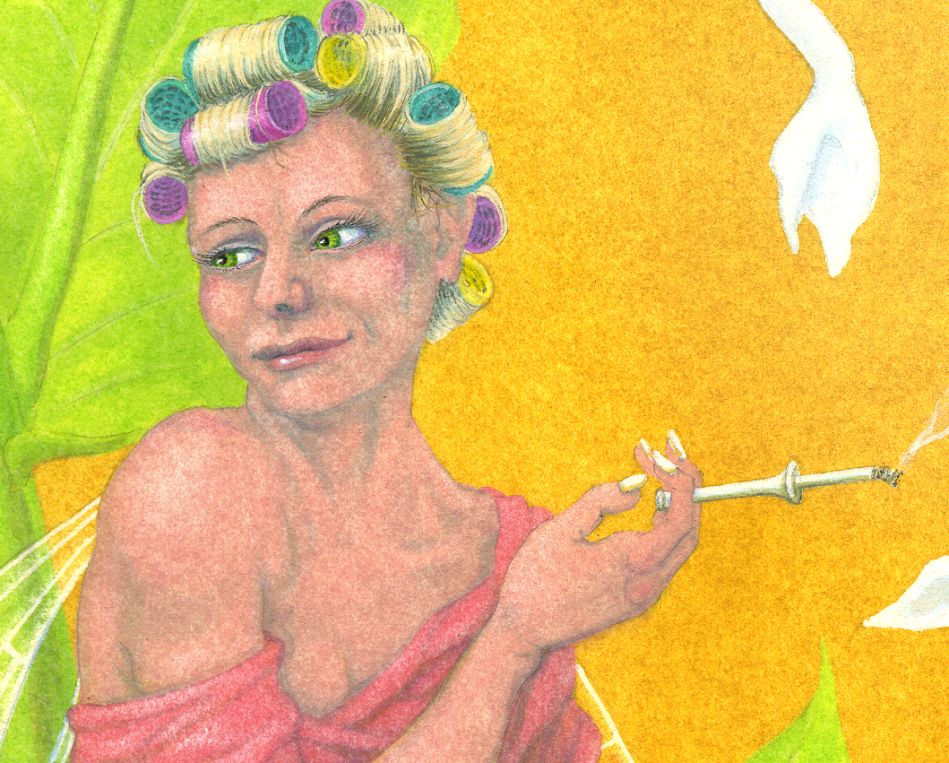 All images and prints are © Nancy Farmer. Please email me if you wish to reproduce any of these images, or see my permissions page in the 'info' section.
Prints & Original Artwork
You can now buy prints of my work (and a few originals) in my Etsy Shop. If you would prefer to buy direct from me, or you cannot find what you are looking for in the shop, feel free to email me instead: mail@nancyfarmer.net. If you are interested in original artwork, I do intend to post a list of currently available artworks in due course, but I'm in the process of moving and re-building a main website, so for the meantime please also email me for more information on originals, and also commissions.