Medusa Veiled
Artwork details: gouache, 4.5 x 4.5 inches (11 x 11 cm), 2005.
One of the 'Drinking Girls' series of miniatures.
'Medusa, Veiled' - painting by Nancy Farmer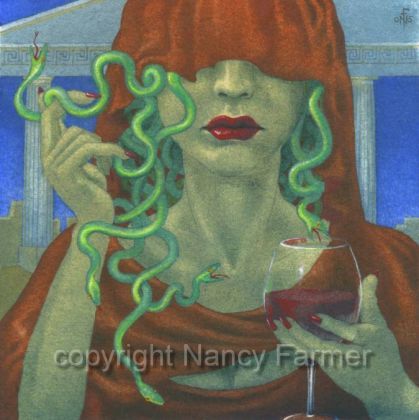 Medusa is the original Femme Fatale of Ancient Greece. This is actually the painting that started the 'Drinking Girls' miniatures, and my fourth painting of Medusa, at time of writing this. I had never been completely satisfied with any of the previous pictures I'd done of Medusa - and as she's such a fascinating subject I kept going back to her. In the end I realized that what was bothering me was this: You'd think that a woman with snakes for hair would make for a stunning painting - but by the time I'd finished the whole figure the snakes, by comparison, were relatively tiny each time, and became a little insignificant - so this is how this painting came about - I drew medusa's face and kept reducing the surrounding picture - the background and the rest of her - until I was down to the absolute minimum of everything else. And so the snakes are relatively very large, though the painting itself is a mere four and a half inches square. The half veil seemed to fit - after all everyone knows that Medusa's glance is deadly, so an acutal portrait of her seemed to be inappropriate - and at the time I had just been to the Middle East, and I think there had been some subliminal influences there...
All images and prints are © Nancy Farmer. Please email me if you wish to reproduce any of these images, or see my permissions page in the 'info' section.
Prints & Original Artwork
You can now buy prints of my work (and a few originals) in my Etsy Shop. If you would prefer to buy direct from me, or you cannot find what you are looking for in the shop, feel free to email me instead: mail@nancyfarmer.net. If you are interested in original artwork, I do intend to post a list of currently available artworks in due course, but I'm in the process of moving and re-building a main website, so for the meantime please also email me for more information on originals, and also commissions.