Medusa in Modesty
Artwork details: gouache, 12 x 8 inches (30 x 20 cm), 2007.
Medusa in Modesty - whole picture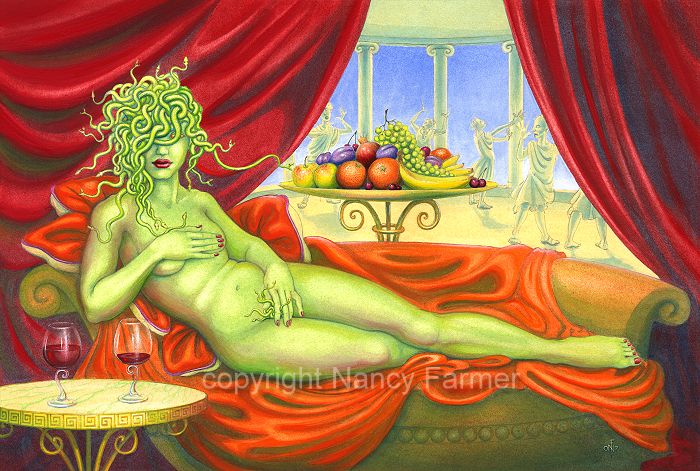 Another painting of Medusa. This is painting number 5 to date, though I haven't painted Medusa in a couple of years so it was overdue. This time, however, I thought I would address the delicate issue of Medusa's pubic hair - or pubic snakes, as it were. No one else seems to have considered this quite obvious question. If course this would lead one to wonder if the poor girl also has underarm snakes, too. One can only assume this to be the lamentable truth of the matter, however, I assume she shaves them off. Underarm snakes really would be a trifle unpleasant, not to mention the trouble they could cause trying to put on a bra in the morning.
Medusa in Modesty - detail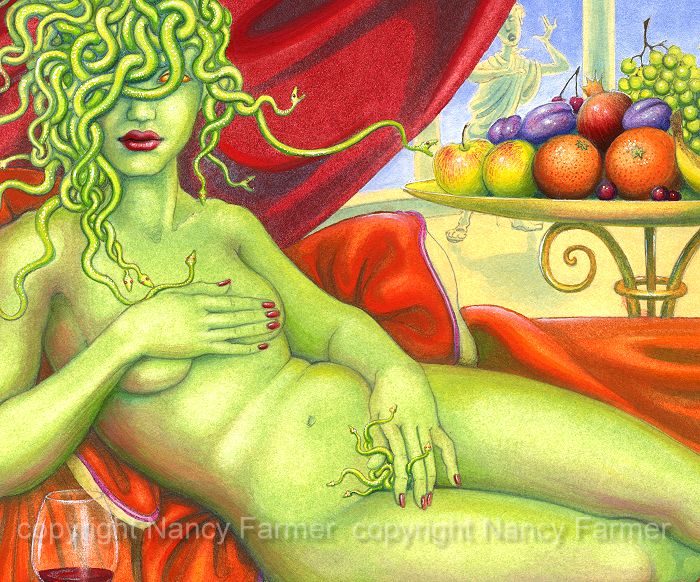 Of course one should not forget that Medusa is the original Femme Fatale, so I've painted her not only delicately covering her - ahem - modesty, but also the snakes conceal her deadly gaze. Behind her in the distance are those unfortunates who did look on Medusa, and have been turned to stone. At least one can only assume it was Medusa's face that caused such a shock...
All images and prints are © Nancy Farmer. Please email me if you wish to reproduce any of these images, or see my permissions page in the 'info' section.
Prints & Original Artwork
You can now buy prints of my work (and a few originals) in my Etsy Shop. If you would prefer to buy direct from me, or you cannot find what you are looking for in the shop, feel free to email me instead: mail@nancyfarmer.net. If you are interested in original artwork, I do intend to post a list of currently available artworks in due course, but I'm in the process of moving and re-building a main website, so for the meantime please also email me for more information on originals, and also commissions.