Long Distance Call
Artwork details: two drawings in pencil, 6.5 x 6.5 inches (17 x 17 cm), 2005.
An Angel and a Devil talk on the telephone. These sort of things happen you know...
They were conceived as a pair of drawings, framed separately but to be hung one above the other (though of course they should be staggered so that the telephone cable approximately lines up, not like they are shown here. Scroll down to see both. The labels part one and two are arbitrary - the picture of the devil earned the suffix of 'part 1' only because it was finished first.
Long Distance Call part 2 (Tea With Cake and Seagulls)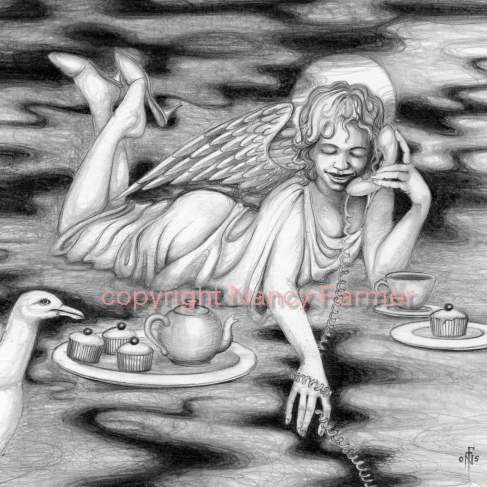 Long Distance Call part 1 (Fireside Devil)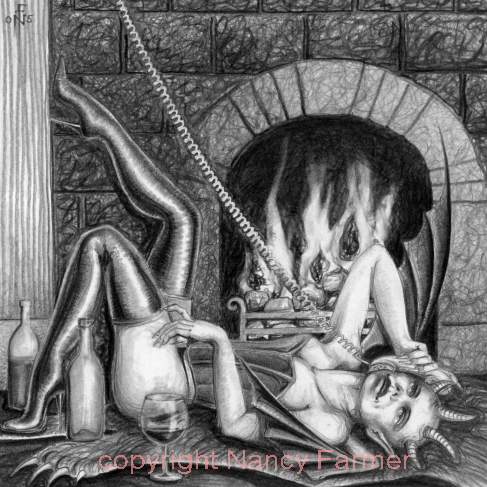 You must remember that Angels and devils are all related, and despite their differences, do like to keep in touch and keep up with the latest gossip about what's going on in 'the other place' as they say in parliament.
All images and prints are © Nancy Farmer. Please email me if you wish to reproduce any of these images, or see my permissions page in the 'info' section.
Prints & Original Artwork
You can now buy prints of my work (and a few originals) in my Etsy Shop. If you would prefer to buy direct from me, or you cannot find what you are looking for in the shop, feel free to email me instead: mail@nancyfarmer.net. If you are interested in original artwork, I do intend to post a list of currently available artworks in due course, but I'm in the process of moving and re-building a main website, so for the meantime please also email me for more information on originals, and also commissions.