The Honey Thieves
Artwork details: gouache, coloured pencil and pastel, 11.5 x 15 inches (29 x 38 cm), 2004.
'The Honey Thieves' painting by Nancy Farmer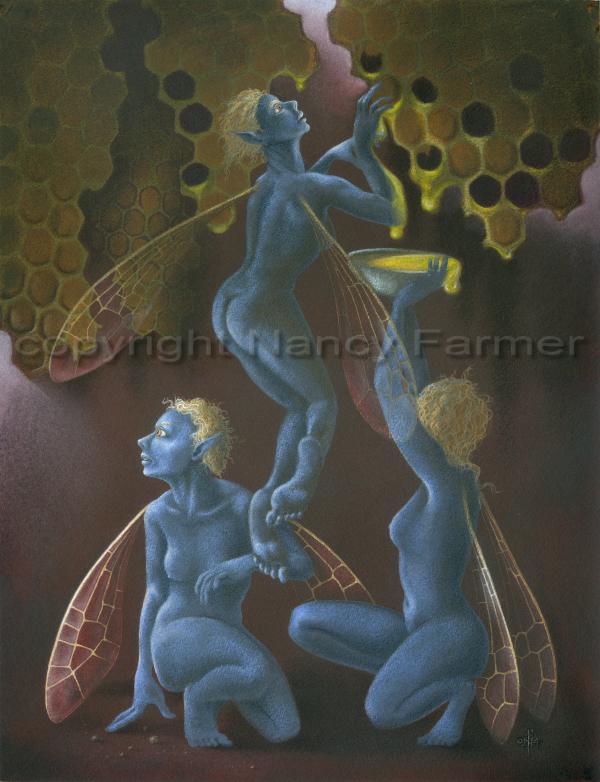 Fairies, it seems, have a sweet tooth, and are not above a degree of thievery and pilfering to satisfy it. But this lot had better be careful - given the scale of fairy-to-honeycomb, I reckon the bees will be equivalent in size to a large angry rat, only flying... which rather explains the look of nervousness on the left-hand fairy's face, who is acting as look-out.
All images and prints are © Nancy Farmer. Please email me if you wish to reproduce any of these images, or see my permissions page in the 'info' section.
Prints & Original Artwork
You can now buy prints of my work (and a few originals) in my Etsy Shop. If you would prefer to buy direct from me, or you cannot find what you are looking for in the shop, feel free to email me instead: mail@nancyfarmer.net. If you are interested in original artwork, I do intend to post a list of currently available artworks in due course, but I'm in the process of moving and re-building a main website, so for the meantime please also email me for more information on originals, and also commissions.