Goldilocks and the Three Bearskins
Artwork details: gouache, 7.7 x 7.7 inches (20 x 20 cm), 2004.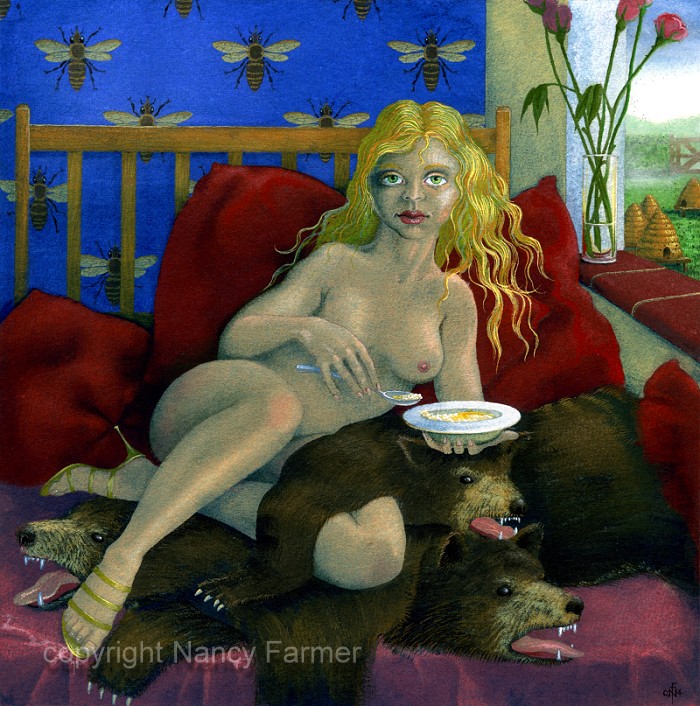 This picture went through a number of transformations in my head, until it got onto paper, by which time Goldilocks had grown from a child to a sort of 'femme fatale' figure. I wanted a view through the window to the right, and eventually in the garden a set of beehives developed - the suitability of honey with porridge, and the famous enthusiasm, too, of bears for honey were probably the initial inspiration of the idea of Goldilocks as beekeeper, but the strong sexual undertones that were also developing almost lent this picture the title of 'The Bears and the Bees'. There is also something of a fetish element in this painting which is enhanced by the sandals and fur, which is why I included this painting in my 'Fetish' selection in the gallery.
'Goldilocks and the Three Bearskins'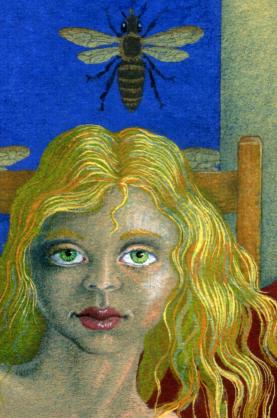 Interestingly, when I looked briefly at the development of Goldilocks as a character, I found that she wasn't originally a child at all. Apparently she may have been an old lady, or a more anthropomorphic version has her as a female fox. At some point later she became a child, and the name also changed, being 'Silverhair' in an earlier version.
All images and prints are © Nancy Farmer. Please email me if you wish to reproduce any of these images, or see my permissions page in the 'info' section.
Prints & Original Artwork
You can now buy prints of my work (and a few originals) in my Etsy Shop. If you would prefer to buy direct from me, or you cannot find what you are looking for in the shop, feel free to email me instead: mail@nancyfarmer.net. If you are interested in original artwork, I do intend to post a list of currently available artworks in due course, but I'm in the process of moving and re-building a main website, so for the meantime please also email me for more information on originals, and also commissions.