The Gatecrasher
Artwork details: graphite pencil, coloured pencil, 38.3 x 13.3 inches (97 x 34 cm), 2009.
This is a close-up section of this (for me) rather large drawing - scroll down to see the rest of it...
Demons, as previously discussed on this site, are quite keen on social gatherings, and frequently have cocktail parties. At least the well-connected demons at the top of the heap do, and some of them are quite civilized, in an old-fashioned Tory kind of way... Angels, on the other hand, tend to be a bit smug and aloof; though a few of the better-connected angels may receive a grudging invitation now and then, in the same way that distant but curiously well-connected relatives get invited to important events. So one shouldn't be all that surprised to find Angels and Demons occasionally rubbing shoulders together.
This scene, however, is not a case in point. This Angel is quite obviously not invited and is rather pursuing a lamentable and somewhat recent pastime popular amongst the lower orders of angels, that of looking for 'a bit of rough'.
This kind of behavior is officially frowned upon by those in charge, but there seems very little to be done about it, and at least it keeps certain undesirable elements on both sides off the streets, which only leads to trouble, war, Nepilim, and (at the very worst) religion.

The tableau below, however, shows what is considered a perfectly acceptable Demon chat-up line.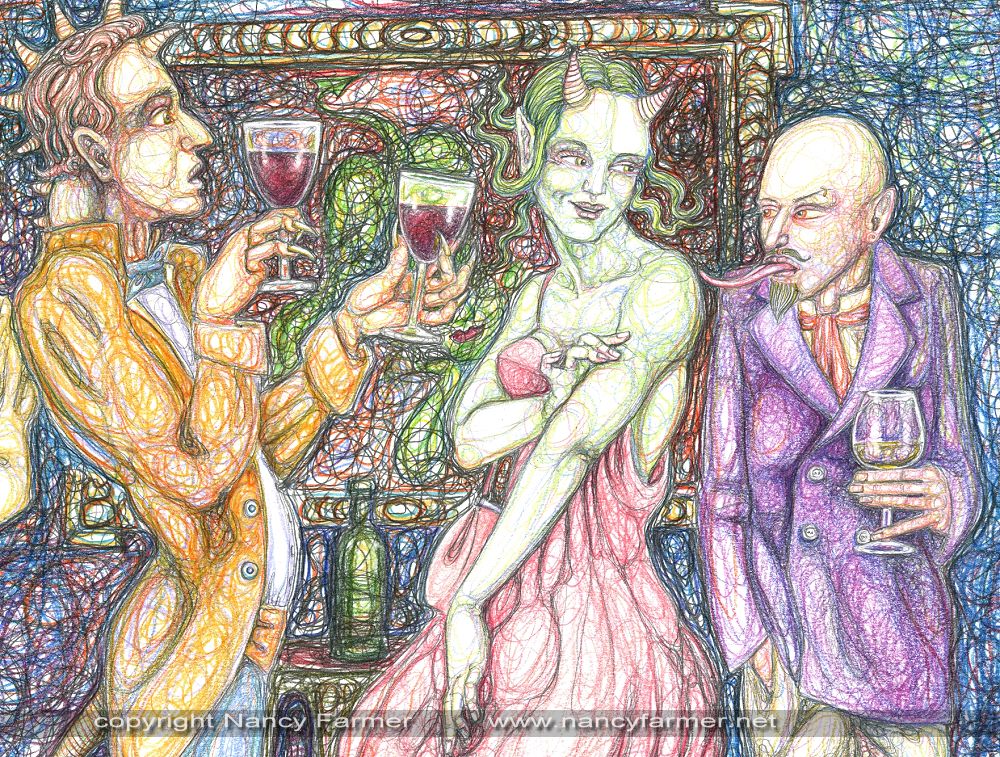 All images and prints are © Nancy Farmer. Please email me if you wish to reproduce any of these images, or see my permissions page in the 'info' section.
Prints & Original Artwork
You can now buy prints of my work (and a few originals) in my Etsy Shop. If you would prefer to buy direct from me, or you cannot find what you are looking for in the shop, feel free to email me instead: mail@nancyfarmer.net. If you are interested in original artwork, I do intend to post a list of currently available artworks in due course, but I'm in the process of moving and re-building a main website, so for the meantime please also email me for more information on originals, and also commissions.