For the Fairest
Artwork details: pencil, 18.8 x 13 inches (48 x 33 cm), 2005.
Scroll down to see the whole image.
'For the Fairiest' - drawing of Athene, Aphrodite and Hera - detail.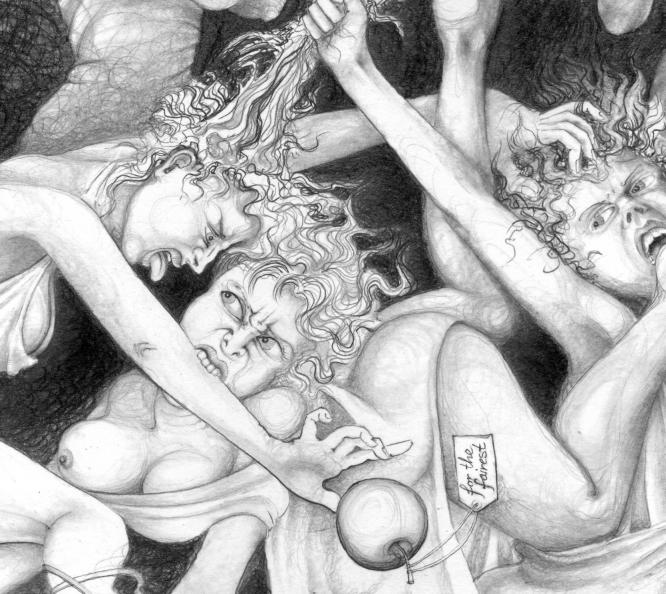 This is a scene from a Greek legend so may need a little explaining:
There's a wedding - of Peleus and Thetis, parents of Achilles - and of all the immortals only one goddess, Eris, was not invited. Of course as we know they are a squabbling lot at the best of times, but she is apparently such a troublemaker she's not invited. So naturally she gets offended and turns up, with a gift of a golden apple, labeled 'For the Fairest'. She throws it amongst the wedding guests and runs away. This causes the most almighty row between the three most important goddesses, Athene, Aphrodite and Hera, who are all of course as vain as anything.
'For the Fairiest' - full picture - a whole bunch of Greek Gods.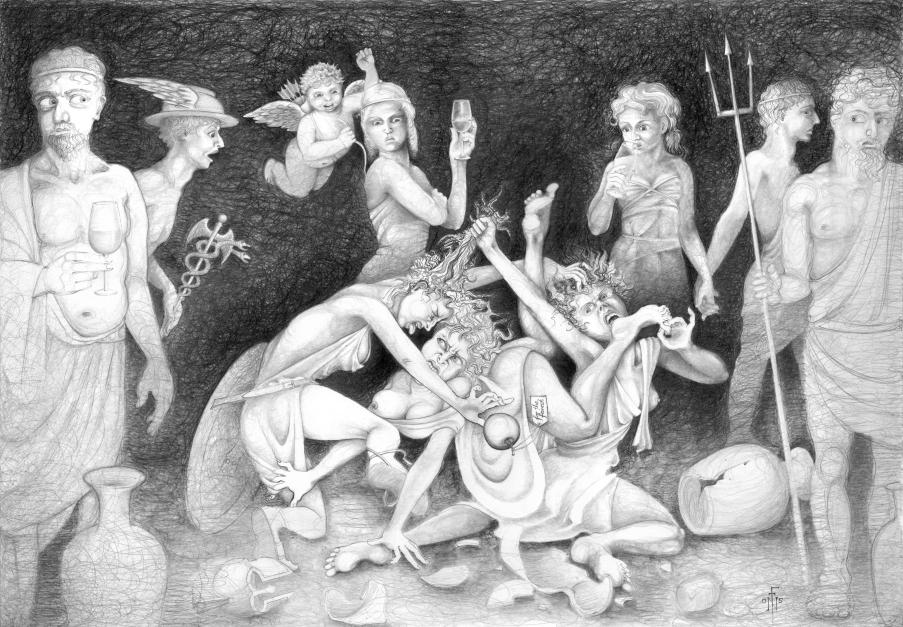 Well, that is the background behind this particular picture, although as it happens the story has far worse repercussions because in the end the three goddesses pick on a poor mortal to chose which of them should have the apple - they ask Paris - but all offer bribes as well and Paris falls for Aphrodite's bribe, who says he can have the fairest woman in the world for his wife (actually she doesn't quite say that but that's the way it ends up in some stories) - and that's Helen - so this is the start of the whole Helen of Troy disaster... There may be another picture in here somewhere.

Hephaestus' Trap
Another Ancient Greece inspired drawing - indeed another picture of Aphrodite behaving badly again - is Hephaestus' Trap - click the thumbnail to the left to see it...
All images and prints are © Nancy Farmer. Please email me if you wish to reproduce any of these images, or see my permissions page in the 'info' section.
Prints & Original Artwork
You can now buy prints of my work (and a few originals) in my Etsy Shop. If you would prefer to buy direct from me, or you cannot find what you are looking for in the shop, feel free to email me instead: mail@nancyfarmer.net. If you are interested in original artwork, I do intend to post a list of currently available artworks in due course, but I'm in the process of moving and re-building a main website, so for the meantime please also email me for more information on originals, and also commissions.