Fairy Wine
Artwork details: two-plate etching, edition of 16 prints, 4 x 4.2 inches (10 x 11 cm), 2010.
This little fairy was a lot more trouble than she looks! This is an etching done with two plates - one printing in blue and the other in orange, and I cannot begin to describe how much more of a headache this is than printing off just the one plate! My first (and to date, only), two-plate etching, nonetheless I do rather enjoy the challenge, and the effect, too, so no doubt there will be more, one day...
I have pasted two prints of this etching below - there was an enormous variation depending on the amount of ink on each of the two plates, but though the prints below are very different, I like them both and couldn't really say which I prefer, so I am content to claim it was meant to be that way!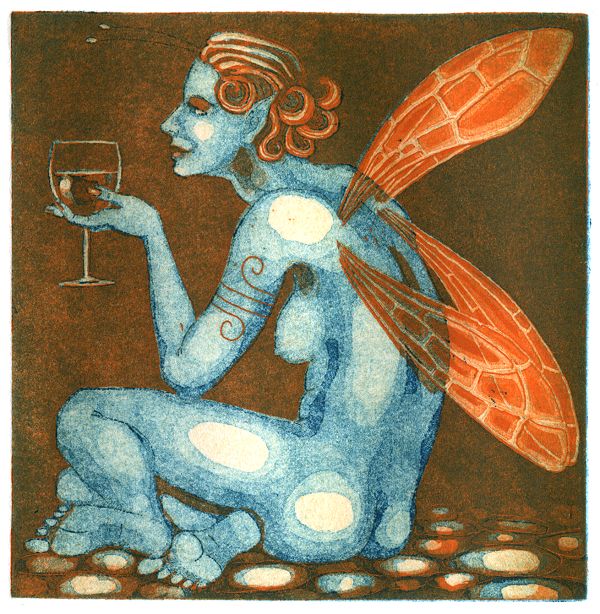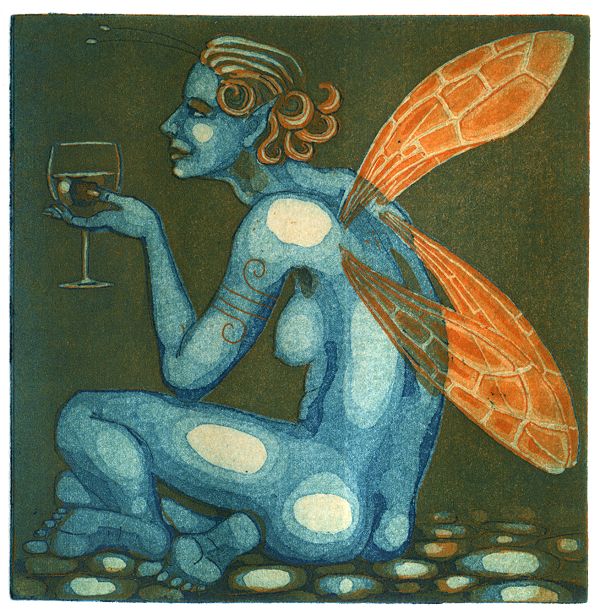 All images and prints are © Nancy Farmer. Please email me if you wish to reproduce any of these images, or see my permissions page in the 'info' section.
Prints & Original Artwork
You can now buy prints of my work (and a few originals) in my Etsy Shop. If you would prefer to buy direct from me, or you cannot find what you are looking for in the shop, feel free to email me instead: mail@nancyfarmer.net. If you are interested in original artwork, I do intend to post a list of currently available artworks in due course, but I'm in the process of moving and re-building a main website, so for the meantime please also email me for more information on originals, and also commissions.