Christmas 2005: Demon Drink
Artwork details: gouache, 8.5 x 10 inches (22 x 25 cm), 2005.
Demon Drink by Nancy Farmer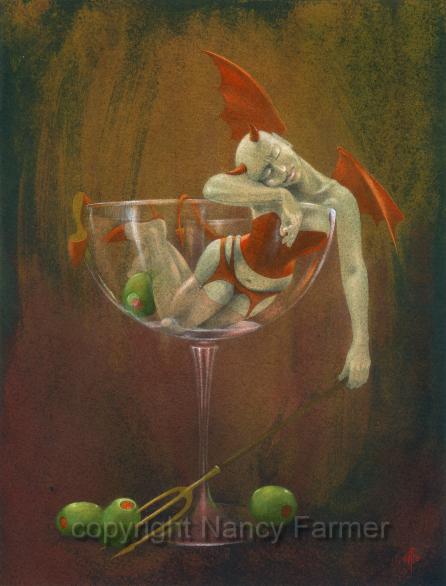 In this painting a petite little devil has fallen asleep after a degree of over-indulgence. It actually wasn't supposed to be a Christmas card at all, but I was just finishing it (in late August) and I realized that it would be the perfect candidate for the job, and finished earlier in the year than any Christmas card yet. I always worry that one year I will not be able to think of anything suitably 'unsuitable' at all, and have to resort to robins on twigs. Mind you, there is probably scope, somewhere, for demonic robins on twigs...
All images and prints are © Nancy Farmer. Please email me if you wish to reproduce any of these images, or see my permissions page in the 'info' section.
Prints & Original Artwork
You can now buy prints of my work (and a few originals) in my Etsy Shop. If you would prefer to buy direct from me, or you cannot find what you are looking for in the shop, feel free to email me instead: mail@nancyfarmer.net. If you are interested in original artwork, I do intend to post a list of currently available artworks in due course, but I'm in the process of moving and re-building a main website, so for the meantime please also email me for more information on originals, and also commissions.