Demon Baubles
Artwork details: drypoint with watercolour, 8.2 x 8.2 inches (21 x 21 cm), 2013.
My Christmas offering of 2013: a drypoint print with hand-coloured details.
The design was derived from one that I put onto a series of hand-decorated candles that I made for the same Christmas (see second photo below). I spent rather too long on the candles, considering the price of them, and definitely far too long on this one image, partly because it was a tricky job fitting enough figures into a narrow space to give the impression of a party scene on such a narrow cylinder, so I was pleased to find an additional use for the design. Photos of all the candles can bee seen on this post on my blog: http://nancyfarmer.wordpress.com/2013/11/24/set-fire-to-my-art-part-2/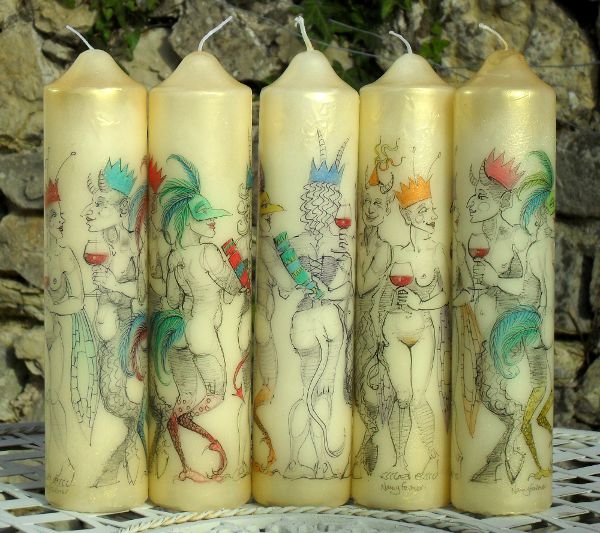 All images and prints are © Nancy Farmer. Please email me if you wish to reproduce any of these images, or see my permissions page in the 'info' section.
Prints & Original Artwork
You can now buy prints of my work (and a few originals) in my Etsy Shop. If you would prefer to buy direct from me, or you cannot find what you are looking for in the shop, feel free to email me instead: mail@nancyfarmer.net. If you are interested in original artwork, I do intend to post a list of currently available artworks in due course, but I'm in the process of moving and re-building a main website, so for the meantime please also email me for more information on originals, and also commissions.