Bronzed Mermaid
Artwork details: gouache, 4.5 x 4.5 inches (11 x 11 cm), 2005.
One of the 'Drinking Girls' series of miniature paintings - all fantasy creatures of some kind.
She lies in the sun, shading her head with her own tail, a Vodka Martini in one hand and a large holiday romance in front of her! this is a mermaid who moves with the times. Well to be honest she hasn't moved all that fast, never having heard that sunbathing is bad for you, and that drink is a bit last-century, but she's more up to date than your average mermaid, waiting around on rocks for sailors to fall in the water...
Bronzed Mermaid - painting by Nancy Farmer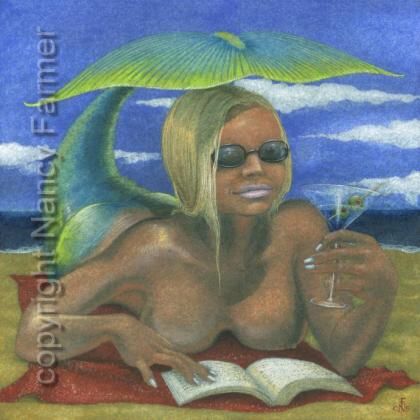 All images and prints are © Nancy Farmer. Please email me if you wish to reproduce any of these images, or see my permissions page in the 'info' section.
Prints & Original Artwork
You can now buy prints of my work (and a few originals) in my Etsy Shop. If you would prefer to buy direct from me, or you cannot find what you are looking for in the shop, feel free to email me instead: mail@nancyfarmer.net. If you are interested in original artwork, I do intend to post a list of currently available artworks in due course, but I'm in the process of moving and re-building a main website, so for the meantime please also email me for more information on originals, and also commissions.