Christmas 2004: Bauble
Artwork details: gouache, 6 x 8.5 inches (15 x 22 cm), 2004.
'Bauble'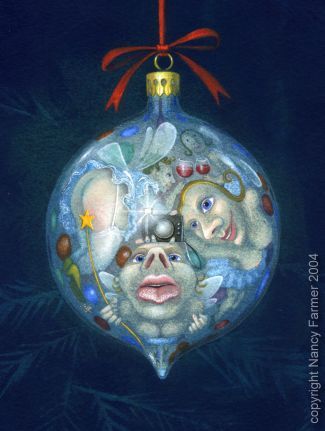 Many years ago - and this is real folklore not just something I made up - many years ago people used to hang shiny glass balls in their houses to distract witches from causing harm. Well I rather suspect that it doesn't work for witches, but fairies, now - they're generally not very bright at all and would have thought that the trick works rather well with them.
'Bauble' - close-up of painting.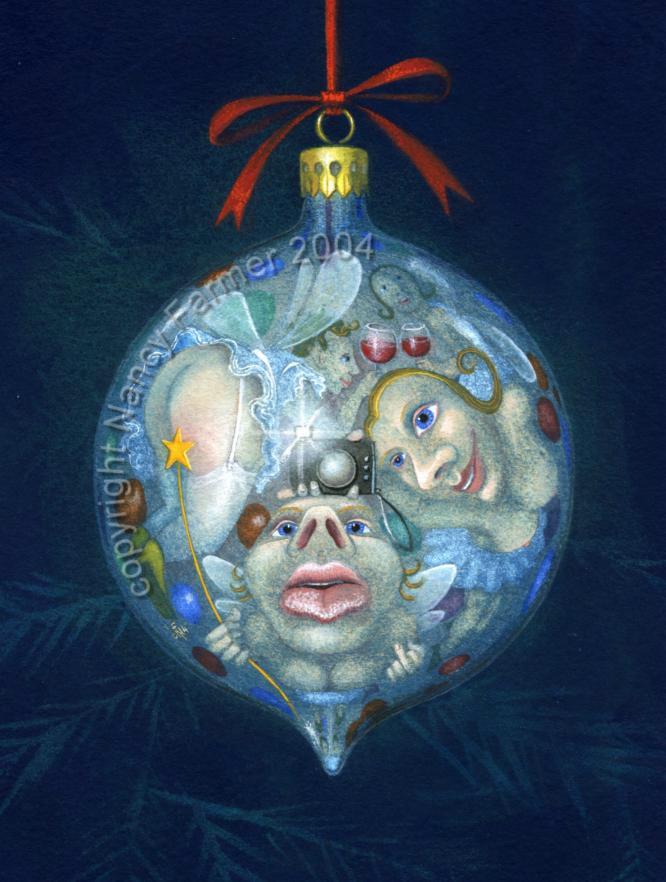 In this painting the fairies have got hold of a camera and are happily engaged in taking photographs of themselves in the bauble. This will occupy them for many happy hours, thus preventing them from causing mischief elsewhere...
All images and prints are © Nancy Farmer. Please email me if you wish to reproduce any of these images, or see my permissions page in the 'info' section.
Prints & Original Artwork
You can now buy prints of my work (and a few originals) in my Etsy Shop. If you would prefer to buy direct from me, or you cannot find what you are looking for in the shop, feel free to email me instead: mail@nancyfarmer.net. If you are interested in original artwork, I do intend to post a list of currently available artworks in due course, but I'm in the process of moving and re-building a main website, so for the meantime please also email me for more information on originals, and also commissions.