The Bank Holiday Fairy
Artwork details: gouache, 5 x 5 inches (13 x 13 cm), 2005.
One of the 'Drinking Girls' series of miniatures.
This is the Bank Holiday fairy. It's she we have to thank for the great British Bank Holiday weather. Don't you believe that pathetic sulky look, the soggy flimsy summer dress teamed with muddy wellies, and the way she clings to her warming cup of tea, sheltering there, oh-so innocently under her toadstool. It's all her fault, really. Someone jilted her on a bank holiday you see, and she's going to make dam sure no-one else has a good time, ever again. And she has particularly good hearing, too... she can hear the words "Isn't it a nice day?", and "I hope it will stay like this for the weekend" from a hundred miles away.
The Bank Holiday Fairy - painting by Nancy Farmer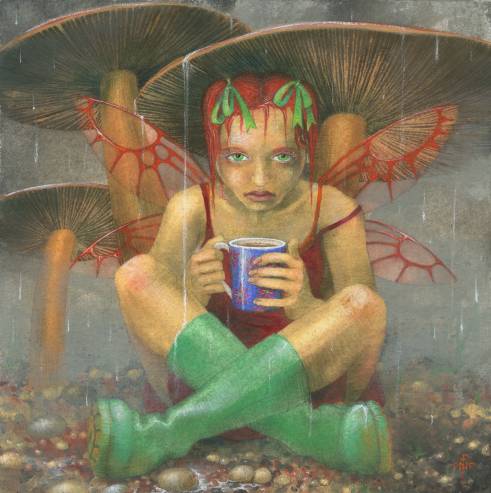 All images and prints are © Nancy Farmer. Please email me if you wish to reproduce any of these images, or see my permissions page in the 'info' section.
Prints & Original Artwork
You can now buy prints of my work (and a few originals) in my Etsy Shop. If you would prefer to buy direct from me, or you cannot find what you are looking for in the shop, feel free to email me instead: mail@nancyfarmer.net. If you are interested in original artwork, I do intend to post a list of currently available artworks in due course, but I'm in the process of moving and re-building a main website, so for the meantime please also email me for more information on originals, and also commissions.