Bad Bad Pussy
Artwork details: gouache, some graphite pencil, 8.8 x 11.1 inches (22 x 28 cm), 2004.
This is a story of Possession. The last vestiges of the swap that has just occurred can still be seen - the catlike eyes of the girl and her smug, self-satisfied expression are matched by the horror and shock in the overly human 'cat's' face. The transformation is almost complete and soon no one will ever know the truth. I wonder if the little girl deserves her fate? Perhaps she was spiteful to the cat all its life and it's time for revenge? Maybe not...maybe it was always an evil cat.
Scroll down to see the close-up of girl and cat
An evil cat?...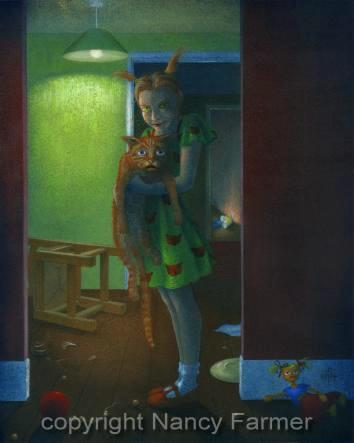 ...or a demonic child? - Painting by Nancy Farmer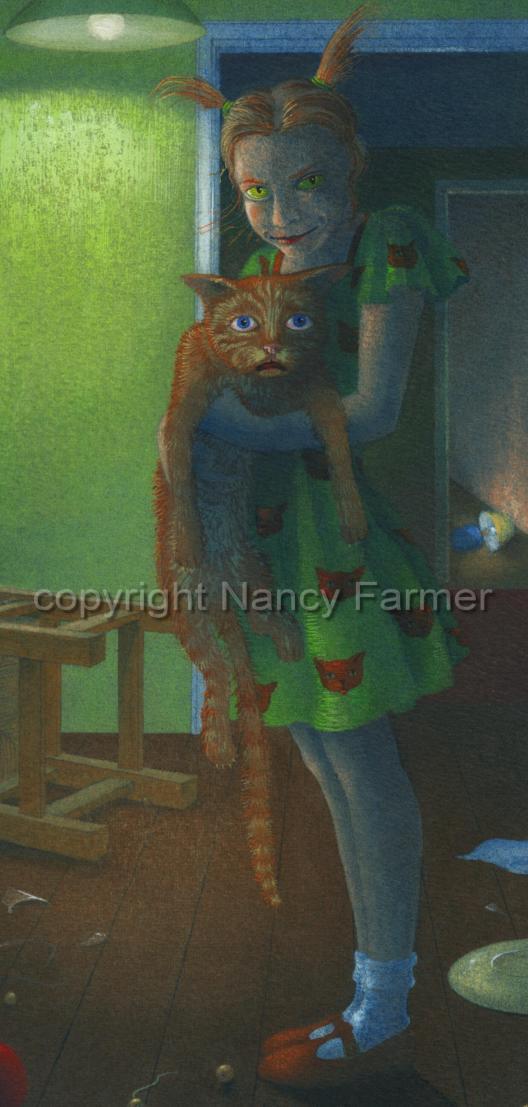 All images and prints are © Nancy Farmer. Please email me if you wish to reproduce any of these images, or see my permissions page in the 'info' section.
Prints & Original Artwork
You can now buy prints of my work (and a few originals) in my Etsy Shop. If you would prefer to buy direct from me, or you cannot find what you are looking for in the shop, feel free to email me instead: mail@nancyfarmer.net. If you are interested in original artwork, I do intend to post a list of currently available artworks in due course, but I'm in the process of moving and re-building a main website, so for the meantime please also email me for more information on originals, and also commissions.