A Slight Misunderstanding
Artwork details: gouache, 18 x 12.5 inches (46 x 32 cm), 2006.
'A Slight Misunderstanding' - painting by Nancy Farmer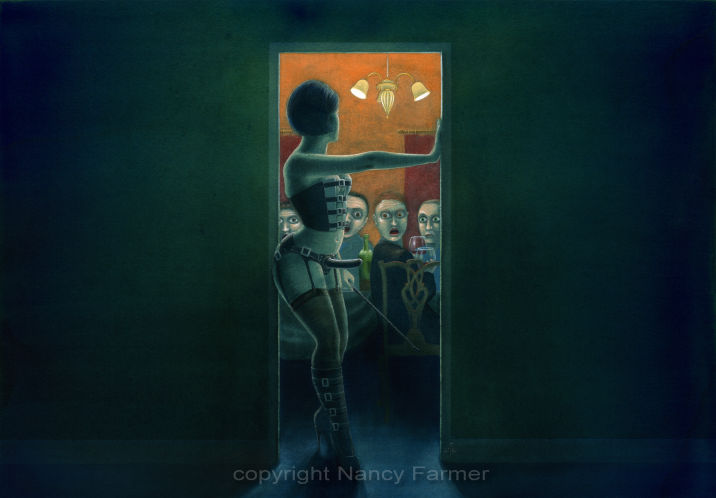 This is the scene of an exclusive little Gentleman's Club, and as a special treat they've phoned out for a lap-dancer - much as one would phone out for a pizza I suppose... Only as so often happens in today's busy world the people have got the order wrong and sent entirely the wrong girl. Happens all the time, at least it does with pizzas...
'A Slight Misunderstanding' - detail of painting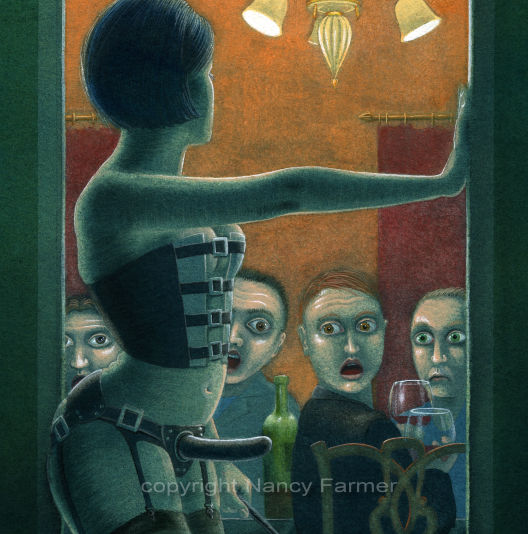 The 'gentlemen' of course, have never seen the like - though I fancy the fellow on the far right looks as much wistful as he looks shocked...
All images and prints are © Nancy Farmer. Please email me if you wish to reproduce any of these images, or see my permissions page in the 'info' section.
Prints & Original Artwork
You can now buy prints of my work (and a few originals) in my Etsy Shop. If you would prefer to buy direct from me, or you cannot find what you are looking for in the shop, feel free to email me instead: mail@nancyfarmer.net. If you are interested in original artwork, I do intend to post a list of currently available artworks in due course, but I'm in the process of moving and re-building a main website, so for the meantime please also email me for more information on originals, and also commissions.