The Devil, a Long Spoon, and a Serious Error of Judgement
Artwork details: gouache, 8 x 8 inches (20 x 20 cm), 2004.
There is a proverb that advises: "if you sup with the Devil, you should take a long spoon" (so that you don't have to get too close, you see)...
Well, I'm not at all convinced that this is very useful advice, I mean it just wouldn't work - think about it: How much difference do you think the length of even a really long spoon is going to make to a creature who can reach across the vastness of Hell and pluck a single wriggling soul from the inferno?
'The Devil, a Long Spoon, and a Serious Error of Judgement' - painting by Nancy Farmer.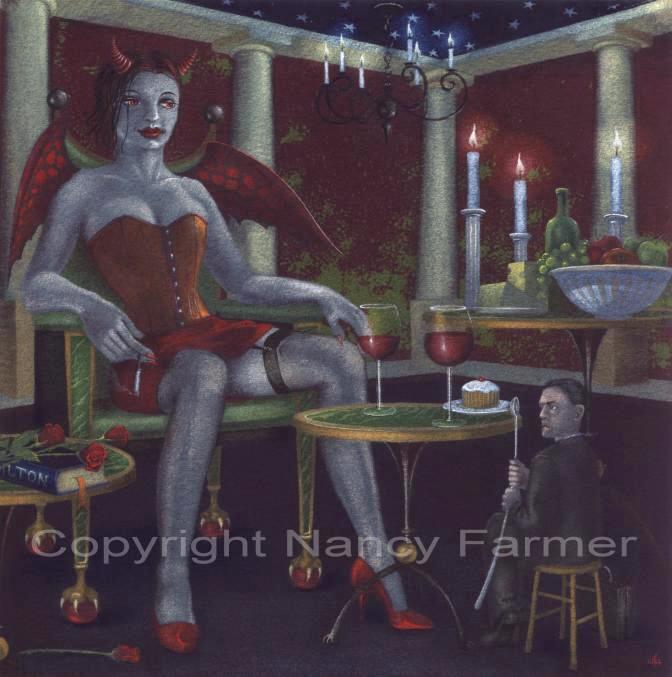 Still, here is one fellow who thought he'd try it - here he sits with his briefcase (presumably containing what he believes to be a watertight contract that he hopes his new 'friend' will sign) and, taking no chances he's made sure to get an extra-long spoon (much good that's going to be with the cake she's given him). And he's just beginning to realize his mistake... rather too late, I fear.
All images and prints are © Nancy Farmer. Please email me if you wish to reproduce any of these images, or see my permissions page in the 'info' section.
Prints & Original Artwork
You can now buy prints of my work (and a few originals) in my Etsy Shop. If you would prefer to buy direct from me, or you cannot find what you are looking for in the shop, feel free to email me instead: mail@nancyfarmer.net. If you are interested in original artwork, I do intend to post a list of currently available artworks in due course, but I'm in the process of moving and re-building a main website, so for the meantime please also email me for more information on originals, and also commissions.