Amorous Dragon
Artwork details: coloured pencil over paper stained with gouache, 18 x 16 inches (46 x 41 cm), 2003.
'Amorous Dragon' - art by Nancy Farmer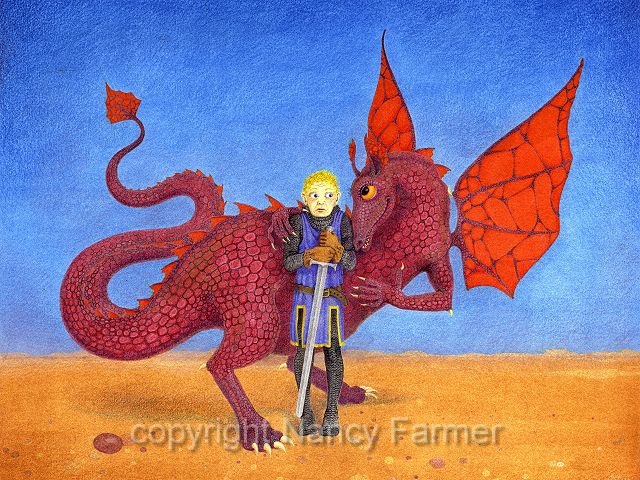 This is a painting of one of those nasty moments when you realize the other individual is reading from an entirely different script!
'Amorous Dragon' - detail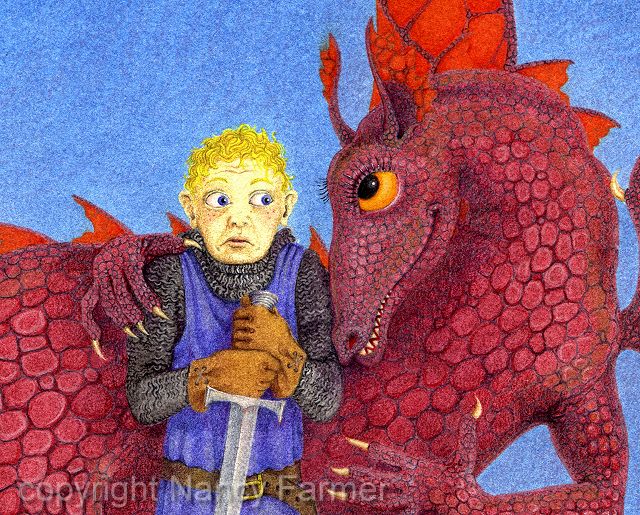 People generally don't seem to consider that Dragons have feelings, too, and maybe get lonely during all those long centuries of lying about on Gold.

'Femme Fatale'
Actually I don't often draw dragons - it's the scales - they are such a pain and so repetitive that sitting there drawing scale after scale makes me want to scream (and I'm usually very good on intricate detail) - they are usually associated with 'high fantasy' artwork, too, whereas I'm much more into people and domestic details (albeit in a fantasy kind of setting). In fact at the time of typing this (Dec. 2007) I have done only one other dragon picture since I was quite young - that was 'Femme Fatale' (see left) - and that was in response to a request for 'more dragon cards'. Some day I may to get back to a few more dragons... but they are unlikely to be your usual sort of dragon if I do...
All images and prints are © Nancy Farmer. Please email me if you wish to reproduce any of these images, or see my permissions page in the 'info' section.
Prints & Original Artwork
You can now buy prints of my work (and a few originals) in my Etsy Shop. If you would prefer to buy direct from me, or you cannot find what you are looking for in the shop, feel free to email me instead: mail@nancyfarmer.net. If you are interested in original artwork, I do intend to post a list of currently available artworks in due course, but I'm in the process of moving and re-building a main website, so for the meantime please also email me for more information on originals, and also commissions.