All's Fair
Artwork details: coloured pencil over paper stained with gouache, 27 x 16.5 inches (69 x 42 cm), 2003.
Scroll down: This is such a big, detailed picture it doesn't really show up well on a monitor - but in an attempt to show this one in a flattering light I have taken a slice through it showing most of the characters' faces. I reckon it took me about 80 or 90 hours to draw and paint.
'All's Fair' - art by Nancy Farmer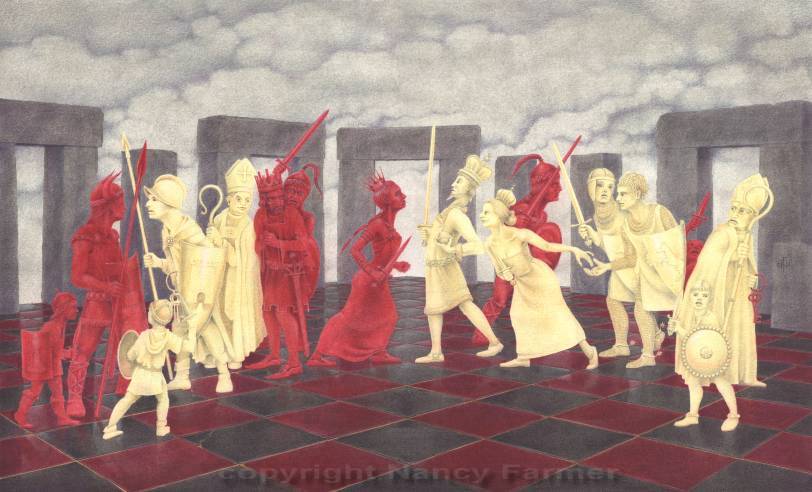 There's a kind of chess thing going on here, which of course is a sort of formalized war-game, but look closely and you'll see a few battles of a more romantic nature, too. The Red King has his eye on the White Queen (to which end he appears also to be colluding with the white bishop), the White queen meanwhile has something going on with one of her knights, who in his turn has taken his eye completely off the ball and is in no position to help his comrade against the Red Knight about to attack them both. And the second White Bishop (on the right), casting a dissapointed backward glance at the White Queen, is rapidly deserting the field with a bunch of Red keys in his hand. The Phrase "all's fair in love and war" gave the piece its title.
'All's Fair' - a kind of chess fantasy - art by Nancy Farmer

Actually I love this sort of complex balancing of characters, but each time I think I could have done more with a picture, and I'd love to do this picture again sometime with more complexity.
All images and prints are © Nancy Farmer. Please email me if you wish to reproduce any of these images, or see my permissions page in the 'info' section.
Prints & Original Artwork
You can now buy prints of my work (and a few originals) in my Etsy Shop. If you would prefer to buy direct from me, or you cannot find what you are looking for in the shop, feel free to email me instead: mail@nancyfarmer.net. If you are interested in original artwork, I do intend to post a list of currently available artworks in due course, but I'm in the process of moving and re-building a main website, so for the meantime please also email me for more information on originals, and also commissions.