The Adoration of Cake
Artwork details: etching, edition of 10 prints, 4.6 x 4.2 inches (12 x 11 cm), 2011.
The second of what was to be a series of 'Adorations' involving three female nudes in very small, packed compositions. I started, most importantly, with 'The Adoration of Wine', followed by Cake, unfortunately I ran out of things to Adore after that! (I briefly sketched an 'Adoration of Cats', but something about that was far too cutesy, and then I rather ran out of steam...).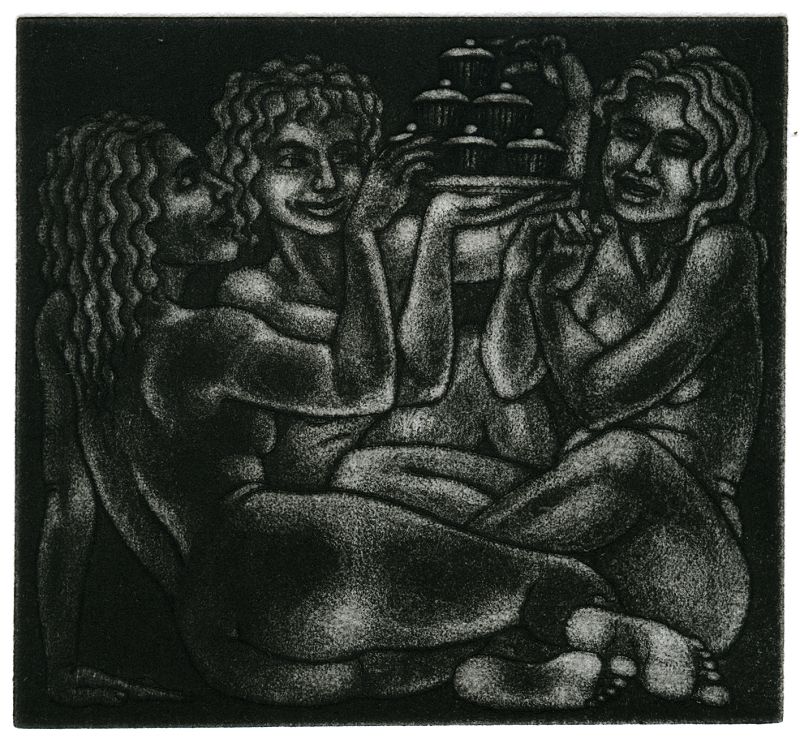 All images and prints are © Nancy Farmer. Please email me if you wish to reproduce any of these images, or see my permissions page in the 'info' section.
Prints & Original Artwork
You can now buy prints of my work (and a few originals) in my Etsy Shop. If you would prefer to buy direct from me, or you cannot find what you are looking for in the shop, feel free to email me instead: mail@nancyfarmer.net. If you are interested in original artwork, I do intend to post a list of currently available artworks in due course, but I'm in the process of moving and re-building a main website, so for the meantime please also email me for more information on originals, and also commissions.