Gift Tags
I have gift tags available for sale. Printed on card, with a gloss finish to the picture side and plain white on the reverse / inside for you to write your message. They are available as three different sets - see the pictures below.
Price: £1.25 per set (4 or 5 tags), or £1 per set if you have 3 or more sets of tags, so, for instance, you can have one of each set for £3, or 3 of all the same set for £3.
Please use the form below to place an order. Please let me know which set(s) you'd like by writing in the larger box, and put the total number of sets in smaller box. To get the discount, you need to put the order in all at once. If you have any problems,or would like me to handle the order personally, please email me on mail@nancyfarmer.net and I can manually send you an invoice.
Set one: "Old Favourites"
5 folded gift tags, blank inside, threaded with thick coloured thread for attaching to gift.
Front and back image is the same except the back is a mirror image of the front.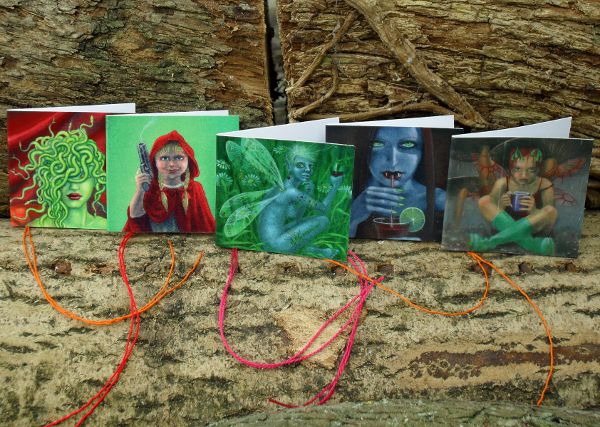 Set two: "Masquerades"
5 folded gift tags, blank inside, threaded with thick coloured thread for attaching to gift.
'Wraparound' image is continuous across the front and back of the tags.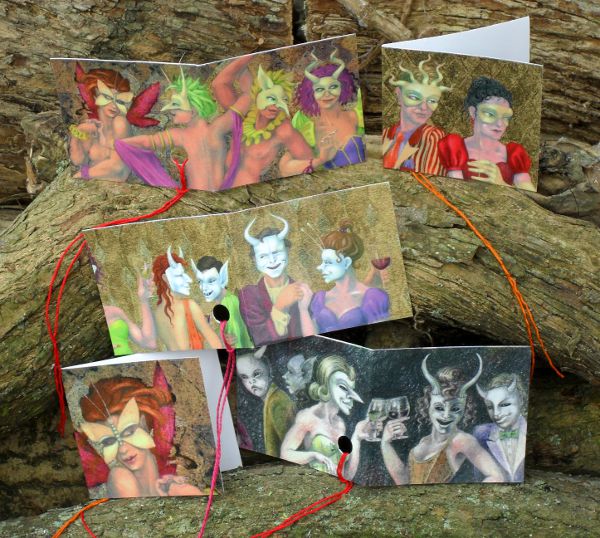 Set three: "Christmas"
4 folded gift tags, blank on reverse, threaded with lovely satin ribbon.
Ribbon colour varies, but each colour has been chosen to harmonize with its particular picture.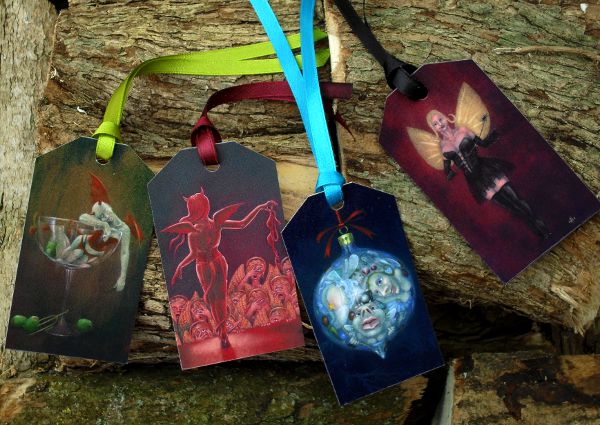 Buying from this site:
I have a shopping cart which will allow you to purchase prints, cards, etc, and some small original pieces. Where no shopping cart button is shown (or if you'd just like more information) please contact me. You can use a variety of methods to pay for things through the website, including credit card, paypal, and by cheque. For more information please see my Purchase Information page.
All images and prints are © Nancy Farmer. Please email me if you wish to reproduce any of these images, or see my permissions page in the 'info' section.